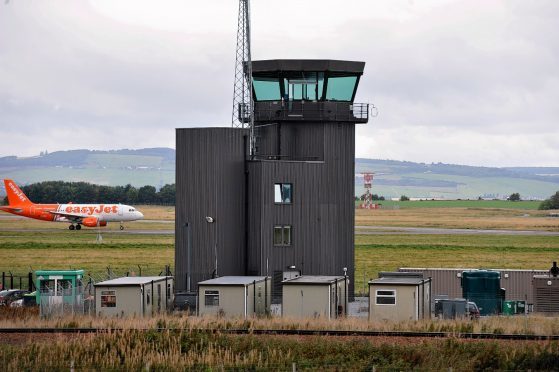 A controversial £28 million air traffic control centre is to be based at Inverness Airport – sparking fears of job losses.
Union bosses and councillors from across the north criticised the move, which is to be developed over the next decade and will see unmanned towers at several airports across the region, including Shetland, Kirkwall and the Western Isles.
The location for the new state-of-the art control centre was revealed yesterday by regional airport operator, Highlands and Islands Airports Limited (HIAL).
Managing director Inglis Lyon said: "The scoping study identifies Inverness as having the most compelling case to support HIAL's continued delivery of its core activities.
"We have to put it where it works best for the company because what we are trying to do it to provide sustainable air services across the Highlands and Islands and the solution that works best for the company is Inverness."
The project will change the way air traffic services are provided to seven out of HIAL's 11 regional airports, centralising their air traffic control management and introducing digital remote towers.
The unmanned towers will be located at Sumburgh, Dundee, Wick John O'Groats, Kirkwall, Stornoway and Benbecula – feeding information back to the central control tower in Inverness.
Mr Lyon admitted the move would affect a number of employees, but added: "We have had feedback from the islands and some people have said they are delighted to relocate and would really love to do something different.
"We have had some people say they are coming up for retirement so they're not going to relocate. We have had other people in the middle that have said they are between the devil and the deep blue sea and they don't know what to do for the best."
Shetland MSP Tavish Scott said he was not surprised by the decision, but added: "They have yet to answer the legitimate questions raised in Shetland over how secure Sumburgh will be when planes landing and departing, are managed by Inverness."
And Shetland Islands Council's chief executive Maggie Sandison said: "Sumburgh Airport is critical transport infrastructure and our lifeline services must be sustained through this period of change and uncertainty."
Comhairle nan Eilean Siar's transport chairman Uisdean Robertson added: "If this goes ahead there will be a loss of high quality jobs in the islands, both in Benbecula and Stornoway."
Orkney councillor Graham Sinclair, chairman of the authority's development and infrastructure committee, said: "Clearly we object to this because of the impact of the loss of these well-paid jobs across our islands."
Western Isles SNP MP Angus MacNeil said: "If electronic communications are as good as HIAL are saying, they could easily have put this centre in Benbecula or Stornoway."
David Avery, of Prospect, Scotland's largest union for air traffic controllers, said: "The HIAL board have taken this decision without undertaking an assessment on the impact on local communities."