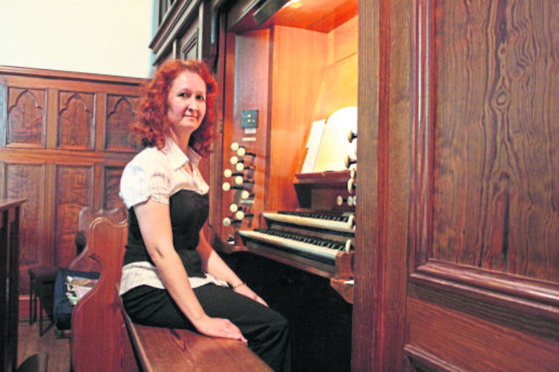 An appeal has been launched to help the family of a "loyal and caring" Inverness church organist who died of cancer while on holiday abroad.
Lily Datony, 53, had already fought breast cancer but had been given a terminal diagnosis after secondary cancer went into her bones.
She and her husband Oleksandr went to Bulgaria at the end of May, but she fell ill during after about two weeks into the holiday.
Father James Bell, from St Mary's Church, said: "We did not know that she was suffering from secondary cancer. She had hoped that some sunshine and good local food would help her to deal with the illness."
But after falling ill she was taken to hospital, and the priest added: "In the hospital they couldn't find anything wrong with her, other than the cancer, which they refused to treat, as she wasn't a resident of the country. Her condition became much worse and so it was decided to take her home to Inverness.
"Unfortunately, the only option available seemed to be to drive her in an ambulance, by road, for more than 2,000 miles to the Edinburgh hospital where she had been treated before.
"Those nearest to her were not sure whether or not she would survive the journey, so they decided to book her into a private hospital in Sofia.
"This was at the family's own expense as it is impossible to get insurance cover for a terminally ill person who has less than six months to live."
Fr Bell explained how a private ambulance was hired to take Mrs Datony on the three-hour journey to hospital in Sofia – at a cost of £400.
He added: "Every day of her stay in hospital cost the family around £300, which included her hospital stay, medications required, food, and transportation, and also accommodation for the family."
However, Mrs Datony's condition deteriorated and she died last week.
A funeral service took place in the past few days at a crematorium chapel in Sofia. Her ashes will be returned to the UK once the documents have been obtained. There will be a memorial service in this country at a future date – but St Mary's parishioners have received an appeal to hep her family, now £6,000 in debt, with yet more costs to follow.
Father Bell said he hoped an appeal would help alleviate the financial burden on them, adding: "Lily was a fighter, she never gave up, she always believed in what was the best in people.
"She was a loyal and caring organist, who was dependable and committed to her vocation as a musician."
Mr Datony said: "If someone can spare even a pound, I would greatly appreciate it. Of course, no money in the world will make the grief to just go away, but the financial strain is just too much. Thank you all."