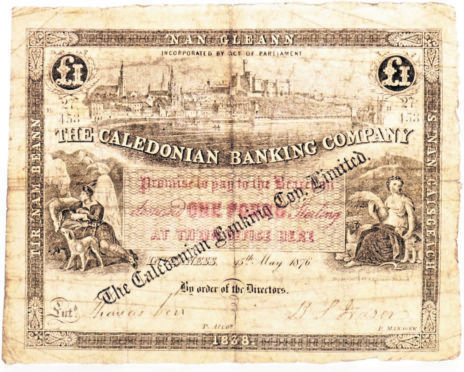 One Inverness resident is really feeling quids in after an auction earlier this month.
An anonymous seller from the Highland capital submitted a £1 note for auction to the highest bidder and was left "speechless" by the result.
The rare Caledonian Banking Company Limited pound note, dating from 1876, sold for £1,700 at McTear's Auctioneers in Glasgow.
It's believed the fact the item contained the handwritten signatures of both the accountant and manager of the bank made it particularly attractive to collectors.
In the last ten years, there have only been three other such examples sold in the UK of this particular banknote.
It has strong Inverness connections because the bank which issued it was founded in the city in 1838, prior to moving to the large white property opposite the Townhouse.
The note depicts a view of Inverness Castle from across the River Ness with two "Highland" scenes of people in traditional clothing.
Sarah Cotter, Head of Jewellery, Watches & Coins at McTear's, said: "It might seem surprising that a £1 note could be worth £1,700.
"But when it is as rare as this Caledonian Banking Company Limited one, it was inevitable it would generate a lot of interest and demand from collectors around the world, even when not in perfect condition."
She added: "Our experience tells us that lots of old coins and banknotes are hidden at the back of drawers and cupboards, so we always encourage people to have a quick look, just in case they have something valuable tucked away."
But the Inverness seller was not alone in raking it in at the auction, as there was a second anonymous seller from Oban who did very well after auctioning off a gold £5 coin from 1990 which sold for £950.
The same seller also gained £900 for a gold USA $20 coin, dated 1888, and £850 for a Jersey Royal Baby Gold £5 coin from 2013.
The Caledonian Banking Company was founded in Inverness in 1838 and had a Gaelic motto – "Land of Mountains, Glens and Heroes" – on its banknotes that was visible on the recently sold £1.
The bank established 20 branches throughout the Highlands between 1838 and 1845, but eventually failed after a run of poor investments in 1907.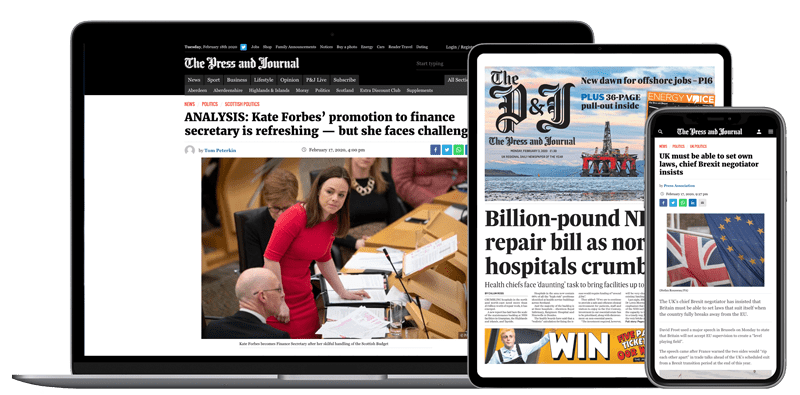 Help support quality local journalism … become a digital subscriber to The Press and Journal
For as little as £5.99 a month you can access all of our content, including Premium articles.
Subscribe