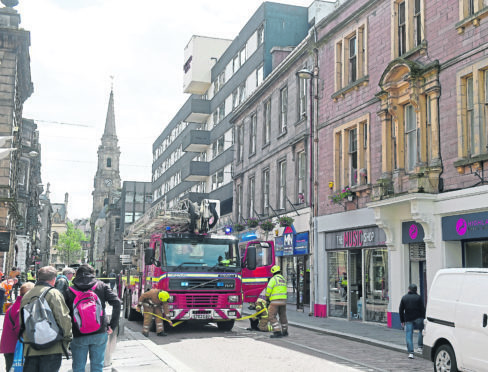 A former provost and a north MSP have joined forces to keep buildings safe after a series of incidents in Inverness.
Highland councillor Jimmy Gray said yesterday he believes there is a "real danger of tragedy" if nothing is done.
He and MSP David Stewart are seeking support in the local authority for what could a move that could eventually see a change in the law.
In November of last year a man was hospitalised after being struck by falling glass from an overhead canopy at Inverness Retail Park which led to its closure for five days.
Then in March Storm Hector triggered a number of incidents in Inverness city centre involving loose banners and loose masonry including two on the busy Academy Street.
And last month two tourists were hit by debris and slightly injured on Church Street, which was shut for a period.
The politicians want to make building owners obligated to regularly survey their properties for wear and tear and then make repairs.
Both fear someone could be seriously injured or killed by falling debris after a spate of incidents in Inverness.
Mr Gray fears that "there is real danger of a tragedy and we must prevent that from happening," adding "we need stronger and more effective legislation".
He said: "It has been obvious to most people involved in building conservation and maintenance and also the wider public that the present legislation covering the upkeep and maintenance of buildings is completely inadequate and has created a situation whereby some of our buildings are in a dangerous condition exposing the public to unacceptable risks."
About the scope of the legislation Mr Gray believes it would have to include old as well as new buildings.
He said: "If you look at what happened up at the Inverness Retail Park in the recent past I think the main issue is ensuring all buildings are safe.
"If you are in the town centre then all you need to do is look up at the masonry and rhone pipes and you can see that some of it is unsafe. You can't drive a car without an MOT yet some of these buildings are hundreds of years old."
Mr Gray recognises that initially the policy could prove unpopular with owners who would have to foot the bill for both the surveys and repairs but he argues that costs would flat line after refurbishment.
He said: "I think that for buildings that are maintained they can be much more easily used, at the same time they could be used for more residential uses."