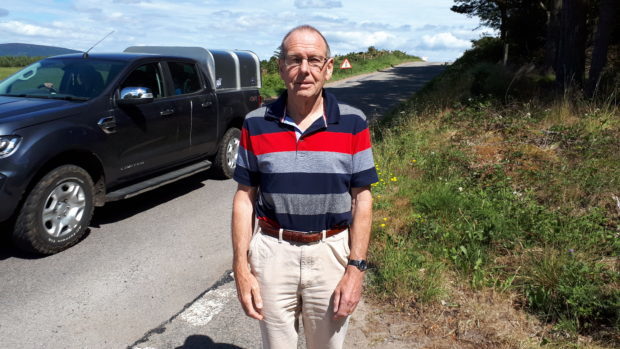 The family of a teenage road crash victim have backed the fight to improve a Black Isle junction as councillors this week debate whether to allocate £250,000 to reroute it.
The completely blind Crask junction on the B9169 Muir of Ord-Shorton Road has already claimed the life of one young driver and scores almost daily near misses, according to residents at nearby Culbokie.
The community still feels the loss of 19 year old David McCallum, who died in 2008 when his vehicle collided with a tractor and trailer at the junction.
The junction sits between two dips in the main road, giving complete lack of visibility to drivers in all directions.
David's father Eric, of St Martins farm, Culbokie welcomed the prospect of rerouting the junction.
He said: "It has come too late for us, but it might save some other family. It is a bad junction. The tragedy that happened with our son could happen again if it doesn't get sorted. It is a really dangerous spot."
Retired detective Gordon Morris, 72, and his wife Angela took up residence on the road leading down to the junction in 2001, where there a total of eight homes and two busy farms.
After two years Mr Morris wrote to the council to ask for something to be done about the junction.
He said: "We'd had enough. I used the junction several times a week, my wife uses it every day. You turn off the heater and blower in the car, open your window and hope the wind is coming from the east.  If it's coming from the west you can't hear a thing. You just hope for the best, and we've lost count of the near misses we've had."
He went on: "The council agreed it was dangerous. They put up blind summit signs, but eventually people got used to them and started ignoring them. The fatal accident seemed to have no effect."
Black Isle councillor Craig Fraser said he had been told by police that a tractor and trailer turning right onto the road would take around 9 seconds, blocking the road in both directions and giving oncoming vehicles travelling at 60mph no chance of avoiding it.
Mr Fraser added: "Add in the road conditions, for example heavy rain, and the situation is even worse. It's also very dangerous for cyclists and horses and their riders."