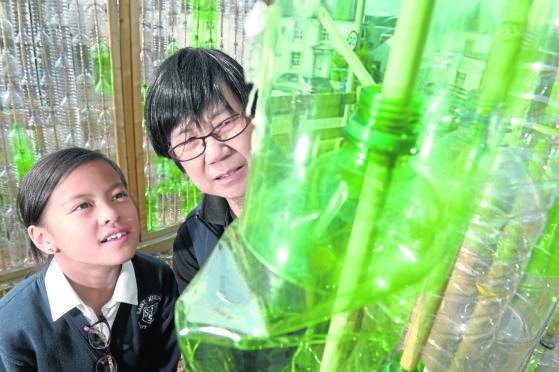 Police have been called after a "crazy" act of vandalism left a Chinese community association in Inverness picking up the pieces.
An eco-greenhouse was seriously damaged at the Scottish Highlands & Islands and Moray Chinese Association (SHIMCA) at the top of Market Brae Steps in the city centre.
The greenhouse was being built to grow vegetables for the association's Lotus Blossom café serving traditional Chinese food.
It was also intended to raise awareness about environmental issues and represent SHIMCA's dedication to lowering its own carbon footprint.
But the eco-greenhouse which uses recycled bottles held up with bamboo sticks in place of glass was severely damaged between 6pm on Tuesday and 8am on Wednesday.
The damage was discovered by volunteer gardener Thomas Lacroix who arrived yesterday morning to see much of his hard work undone.
He said: "I believe it is a very striking landmark for this organisation and a lot of tourists who come up Market Brae stop and look at it, then go in the café.
"The result is that some people started to dismantle it and made a right mess and this morning I found it."
SHIMCA chairwoman Monica Lee-Macpherson said it was unlikely to be a racist attack but the perpetrators may have caught on CCTV according to police.
She said: "You can see it is so deliberate – at first I thought it was maybe the wind but then wind would not crush the bottles. Crazy, it was lying around here all over the place and it must have happened sometime between 6pm and 8am when Thomas came in.
"I felt hurt and disappointed, they could just be getting bored – I think they did it just for fun. I don't hold by anything that says it could be racist.
"Because they look at something so unusual and maybe they feel "why are they doing this" and they didn't bother to look at the pictures, the illustration – they are just being mischievous."
Despite not fearing racism as a motive Mrs Lee-Macpherson said more security measures will have to be taken at SHIMCA which is dedicated to integration, cultural events and education.
She added: "The police have been and they say there is CCTV that might have been able to record what happened."