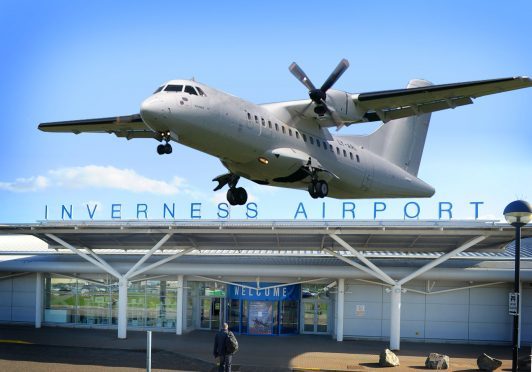 Inverness Airport is flying high after it was voted the best in Scotland by passengers.
A Which? survey revealed that the Highland facility had beat off the competition from the other three international airports in the country, with a 68% approval rating.
The consumer website carried out a survey of almost 800 passengers in Scotland between April and May this year.
Meanwhile Aberdeen was voted the worst in the country and also finished bottom out of all 18 smaller airports – those with fewer than 10million passengers each year – across the entire UK.
Inverness, which was ninth in the smaller airports UK table, was given high scores for customer service, queues and toilets.
Those surveyed said it "operated well" and was "pleasant" and "friendly".
Fraser Grieve, the Scottish Council for Development and Industry's regional director for the Highlands and Islands, said the results would be another huge boost for the north.
He said: "This has been a period of unprecedented growth for Inverness and it's fantastic that the airport has been recognised.
"The hundreds of thousands of people that come through have had a positive experience and that's a real testament to the hard work of the staff.
"Inverness now has a huge number of domestic and international connections, with people travelling from around the globe to experience what the Highlands has to offer.
"I think it's really important that the first and last experience they have, which will be the terminal building, is a positive one which hopefully means they will come back again."
The airport has recently launched a new facility to improve access for visitors with additional needs and a lanyard scheme for travellers whose needs are less apparent.
The Civil Aviation Authority also recently named it in its top six most accessible airports for flyers with reduced mobility.
Graeme Bell, the general manager, said: "Being rated by our customers as the best airport in Scotland recognises the hard work and dedication from all our staff, who ensure our airport meets the high standards and service expectations of our passengers. Our teams go out of their way to keep Scotland moving, often during unsociable hours and challenging conditions.
"This is a real vote of confidence for Inverness Airport and further proof that the airport is continuing to go from strength to strength, with new routes improving connectivity and increasing passenger numbers each year. As a vital driver for the region and the Highlands and Islands economy."