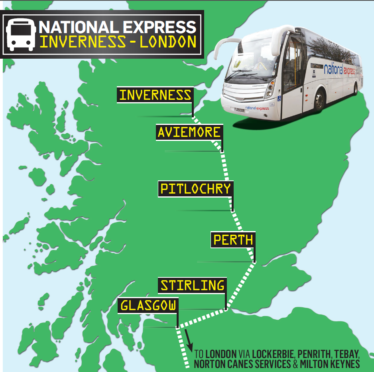 The night-time bus service from the Highlands to London is being scrapped by iconic coach firm National Express.
Business leaders and travellers last night expressed disappointment at decision, made as a result of declining passenger numbers.
Businessman Lawrence Pater, from Nairn, regularly uses the service, and hit out: "It will be sorely missed because I could travel for around £30 for a return, but now have to make my way to Glasgow or Edinburgh.
"My costs will soar substantially, well over double."
He added: "National Express say it is because of dwindling numbers and while it can be fairly empty some nights, it can regularly have around 20 passengers."
Paula Nicol, deputy chief executive of Inverness Chamber of Commerce, said: "Any move that reduces connectivity to and from the Highlands is a concern.
"The National Express service is a cost effective option particularly for leisure travellers and, while there are good alternatives in terms of rail and air, the loss of this service would nevertheless remove a valuable link and reduce the choice available to both business and leisure users."
The daily service has run for more than 20 years from the Highland capital, leaving at 6.15pm each evening and calling at Aviemore, Pitlochry, Perth and Stirling en route to Glasgow, before onward travel to London, arriving at Victoria bus station at 6.50am the following morning.
A National Express spokeswoman said: "Unfortunately, due to a long term decline in passenger numbers we have made the decision to withdraw the 588 Inverness to London service.
"This will be with effect from Monday, September 17."
She was unable to divulge exact numbers, and added: "Passengers can still make the journey via a ticketing arrangement with Scottish City Link, although this has unfortunately extended the overall journey time.
"This arrangement requires them to connect from Inverness with Scottish City Link to an alternative National Express service to London at either Perth or Edinburgh.
"This decision has not been taken lightly but it is simply not viable for us to keep running this service. Although there are no immediate plans to reinstate the service, we will keep this decision under review."