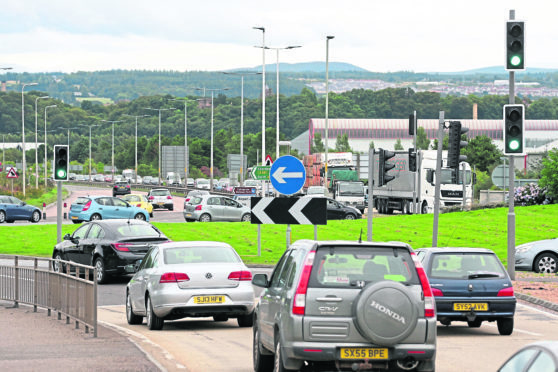 Planned improvements to pedestrian and cycle access along the A82 in Inverness have received a mixed reaction from the public at a consultation event in the city.
Representatives of cycling groups in particular have been disappointed with what has gone on show, with one man labelling the proposals a "damp squib".
The development concerns the route from the Longman Roundabout to Tomnahurich Bridge, and the aim is to improve road safety for those who walk or take a bike to work.
At the same time the proposals aim to support active travel in Inverness which is part of the Highland Council and the Highlands and Islands Strategic Transport Partnership "masterplan" for a core travel network.
Ahead of the launch BEAR Scotland revealed that proposals are also being developed to install a new footway and cycleway between Longman Roundabout and Telford Road Roundabout.
This will improve facilities for residents and visitors who are walking and cycling through this part of the city with further plans in development to install a new footway and cycleway between Longman and Telford Road Roundabouts.
That may have led to confusion as some people there expected to see plans for the foot and cycle ways as some expected more from the plans.
But most of the improvements would be to crossings to make it easier for foot traffic to get about the city in the vicinity of the busy A82.
Mick Heath, from Cycling UK Highlands and Own Your Street, claimed the plans were "a well-intended damp squib."
He said: "If active heath is going to be developed well in the city then it needs a great path infrastructure because we are in the vicinity of traffic very frequently.
"It is another great example of well-intended ignorance of good practice our benchmark for safety is anyone of all abilities from 9 to 99 can safely use the path – it sits along SUSTRANS benchmark of is this route safe enough for an unaccompanied 12 year old child. And this would fail that in many ways. We want segregated path between walkers and cyclists."
BEAR Scotland's North West Representative Eddie Ross said: "Improvement measures are being drawn up to improve both the facilities for those crossing the A82 between Longman Roundabout and Tomnahurich Swing Bridge and also for those walking adjacent to the A82 at this location.  These measures will contribute to improved pedestrian safety in the city.
"We'll then review all feedback from the community and others with Transport Scotland before any final decisions are made. All comments are welcome and we'll share any outcomes with all relevant stakeholders once available."