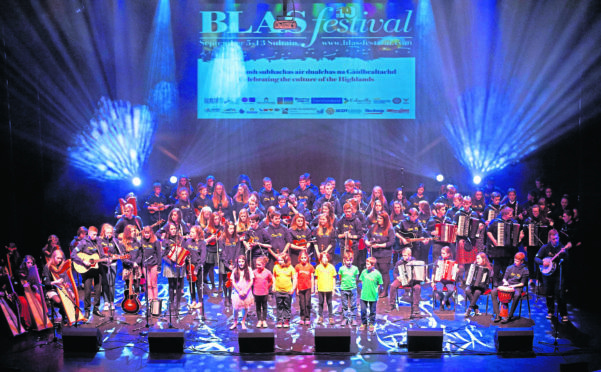 A thousand young people will take to the stage to sing an inspirational Gaelic song during a celebration of young musicians at a unique event in Inverness.
Òran Mòr, of the biggest events in the 30-year history of the Blas Festival organised by music tuition charity, Fèisean nan Gàidheal, will see young musicians perform Bèo an Dòchas or Living in Hope.
This celebration of young people is the centrepiece of the line-up of nine-days of events at this year's multi-venue Blas Festival.
The annual festival is the song composed by up-and-coming young Gaelic songwriter Robbie MacLeòid. His song, Bèo an Dòchas, was written specifically for the event.
Musical direction for the event is by Donald Shaw of Gaelic super group Capercaille. Singers are being led on the day by young Gaelic singer, Annia MacGillivray from Tain.
This year Blas asked young people to perform, design and deliver some of the main festival events, including founding a youth steering group which has worked with the festival board to provide ideas and act as ambassadors for the festival.
Alix Aburn, a Blas Festival youth ambassador, said: "Robbie's song has really struck a chord with me and I think when other people hear it they will be able to relate to it too, especially the chorus 'Fhad's tha mi òg, bidh mi òg, Bidh mi beò, beò an dòchas' which means 'While I'm young, I'll be young, I'II be alive, living in hope.' I'm really looking forward to Òran Mòr – it's not every day that you get to sing with over 1,000 other musicians!"
The event, Òran Mòr, meaning great or big song,  will take place at the Northern Meeting Park,  Inverness this Saturday September 15.
The line-up features young musicians from the 47 Fèisean music tuition groups and various other youth music initiatives from across Scotland,  including the Highland Council Youth Music Groups and the National Centre of Excellence in Traditional Music.
Headliners Skipinnish, Trail West and Breabach will perform alongside BBC Radio 2 Young Folk Award winners, Gaelic singer Mischa Macpherson and piper Brìghde Chaimbeul.
Highlighting the place of young people in the Gaelic movement in Scotland, MSP  Maree Todd, minister for children and young people, said: "Young people have been at the heart of the Blas Festival for more than 14 years.
"It is fantastic to have the new Òran Mòr flagship event this year, which will give them an even bigger platform to showcase their talents, as we celebrate Scotland's Year of Young People.
"The Blas Festival is a truly unique event for all ages to connect and enjoy Gaelic and our Scottish traditions and heritage. Not only will there be young people performing,  but they've been at the centre of planning and delivery for this year's festival.
"I look forward to attending to seeing it all come to life."