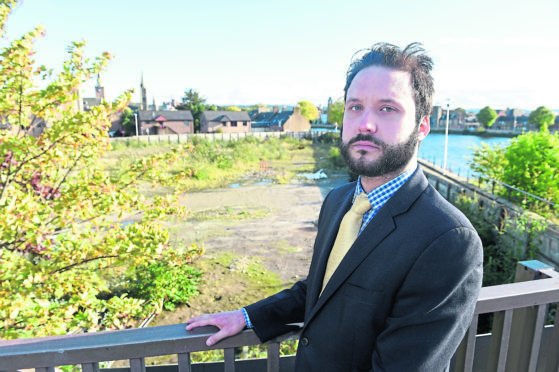 Highland councillors have thrown out an application for a hotel on a well-known site in the centre of Inverness, amid claims that the design is a throwback to the 1960s.
The Glebe Street land has been vacant for 18 years – but yesterday, it was decided it would stay that way for now rather than allow an "absolutely bogging" and "hideous" design.
Certain South Planning Applications committee members vied with each other to decry in the most colourful terms the design put forward by applicant Vastint Hospitality.
Vastint develops and builds hotels for Marriot International under their Moxy brand.
The company proposed a six storey, four-star hotel on the Ness river front on the site of the old swimming pool.
Their design is a modular block-style building, with roof terraces to break up the mass, clad in stone at ground level, and in ceramic for the rest, with aluminium fins as an architectural feature.
Local councillor Richard Laird led the cross-party revolt against the recommendation to grant the application.
---
>> Keep up to date with the latest news with The P&J newsletter
---
He began by questioning the traffic management proposed around the 168-bed development and went on to present a withering case against the design.
He said: "I'm content with the principle of a hotel, I have no issue with the height, but I have problems with mass of this development.
"It reminds me of Inverness College on the Longman, it's almost the same elevation as you get from Harbour Road.
"It's described as a contemporary design when it's in fact straight out of the sixties.
"From the river, we can see massive grey boxes. It's the ambition of every Inverness councillor to a avoid supporting the construction of massive grey boxes, but what we have before us today is that, in a nutshell.
"I think it's absolutely bogging in terms of its design. I'm not content to agree a building which looks exactly the same as some of those we're desperate to get rid of in the centre of Inverness."
Council convener Bill Lobban said: "I know beauty is in the eye of the beholder, but in the eye of this beholder, this is a hideous building.
"This is a very important site we'd all like to see developed but it deserves something better than this.
"This might be considered quite contemporary- yes, quite contemporary in 1960s east Germany looking from the wrong side of the Berlin Wall."
Councillor Andrew Baxter quickly waded in to add: "This is perfectly contemporary if you want a Stalinist megalith such as I've seen in contemporary Moldova."
Councillor Andrew Jarvie was also scathing.
He said: "We've spent decades discussing how we can get rid of those monstrosities on Bridge Street. I don't want to approve this and then we as a council go to a twenty-year debate finding out how we can buy them to blow this one up as well."
The plans found support among other councillors however.
Councillor Ron MacWilliam said: "It looks like something you find in a serious city centre and that's what we aspire to be. Let bear in mind the jobs it will create, the tens of thousands of visitors who can be accommodated and their importance in the regeneration of Academy Street as customers."
The plans went to the vote and were refused by eight votes to seven, with one abstention.
The P&J have asked Vastint Hospitality for a response to the decision.