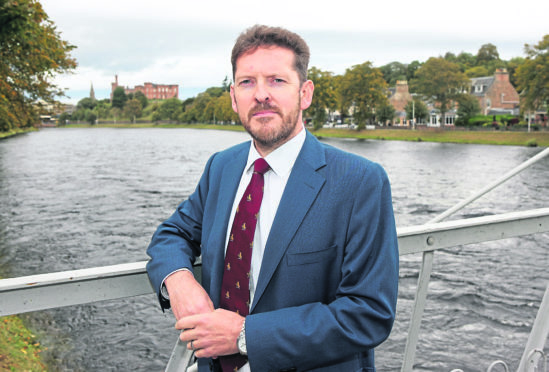 A staff nurse who worked at Raigmore Hospital has described it as the worst experience of her entire life.
She likened the "bullying culture" to "something out of medieval times" and said she was terrified of being identified by her former bosses.
Concerns about treatment of the workforce were made public last month by four clinicians who wrote an open letter alleging a severe bullying culture within the organisation.
That opened the floodgates to multiple allegations of mistreatment of staff.
NHS Highland has said they will carry out an internal inquiry into the allegations to determine if they need to launch an independent inquiry.
Last night, one former nurse broke her silence for the first time and said she was "miserable" during her time at Raigmore Hospital.
She said: "I hated it. I was just miserable. There was an atmosphere constantly. Don't get me wrong, sometimes the atmosphere would be wonderful. But it all depended on who was on your shift.
"My diary has so many specific stories but I don't want to go into detail in case they work out who I am.
"I felt they were stuck in medieval times. Even the patients would say things like, 'good it's you today and not her,'.
"I thought, it's not just me going home crying at night, imagine these poor patients having to stay here."
She described one occasion when she was shouted at by a consultant.
"I was humiliated by a consultant. One day I had not long started and I did something differently to the way they are trained to do it here. I was shouted at in front of the entire front area of the ward. Anyone could have heard.
"It would have been more professional to take me aside and have a word with me."
She continued: "I have seen several colleagues crying at work.
"I had to go on medication for anxiety – it made me so ill. It was the worst experience of my entire life.
"I am scared to go into more detail because they would know exactly who I am.
---
>> Keep up to date with the latest news with The P&J newsletter
---
"It made me incredibly anxious and low. It consumed my whole life. I felt dread knowing I had to go to work. It was awful – I had to get out of there."
A spokeswoman for NHS Highland said: "NHS Highland does not tolerate bullying and harassment behaviours. There are various ways in which our staff are encouraged to raise concerns. The process for reporting concerns would be through your line manager however if this was not appropriate then concerns could be raised with another manager, with the HR department or through your union representative."
Edward Mountain, MSP for the Highland and Islands, said he would encourage anyone who has been bullied to come forward.
Dr Iain Kennedy, one of the whistle-blowing doctors, said: "There are already a large number of people who are willing for their names to come out to the government, and that will be happening at the right time for the victims. Our duty is towards our patients first, to the public, and to all our staff colleagues across NHS Highland. Many admin and support staff are not as well protected as senior doctors. We know that, and we believe it's our duty to help our colleagues."
He added: "The fact that an NHS organisation in Highland, which is meant to cure ill-health, has actually been the direct cause of severe psychiatric injuries including anxiety, depression, post-traumatic stress disorder and suicidal ideas is deeply troubling, and deserves the attention of a completely independent public inquiry.
"The perpetrators cannot be allowed to continue inflicting damage to staff members with apparent impunity, here or anywhere else. Mental health is a priority for our health minister so we believe that our staff will get the victim support they need."
A bullying culture within NHS Highland?
Concerns about treatment of the workforce were made public when four clinicians wrote an open letter alleging a "severe bullying culture" within the organisation.
That opened the floodgates to multiple allegations of mistreatment of staff from across the health board area in a wide range of roles.
The four Highland medics who have spoken out are Eileen Anderson, consultant radiologist at Raigmore; Lorien Cameron-Ross, Out of hours GP at Raigmore; Jonathan Ball, GP at Nairn medical practice; Iain Kennedy, executive partner at Riverside, Foyers and Cromarty medical practices.
In a publicly-issued letter, they wrote: "This practice of suppressing criticism, which emanates from the very top of the organisation has led to a culture of fear and intimidation. This has had a serious detrimental effect on staff at all levels of NHS Highland, but equally importantly, has had an adverse effect on on the quality of care we are able to provide for patients."
It was signed by all four doctors, who are also on local and area medical committees.
The doctors have since repeated calls for an independent public inquiry into the bullying culture.
Dr Kennedy said: "We will be demanding an independent public inquiry – possibly led by a QC in the manner of the Francis report into the Mid Staffordshire NHS Trust. Or perhaps by a judge."
The Press and Journal first raised the issue of bullying claims within NHS Highland back in July.
Allegations first surfaced after the publication of a Corporate Governance report that stated health bosses needed to bring in mentors and go on formal training courses to improve how they govern.
The report was considered during a NHS Highland board meeting in July when David Alston NHS Highland chairman said: "I would reject that. I don't think anybody believes that."
NHS Highland has now opened a temporary confidential helpline, while the board is seeking a meeting with the clinicians.
The health board said it would carry out an internal inquiry then assess whether an external one is needed.