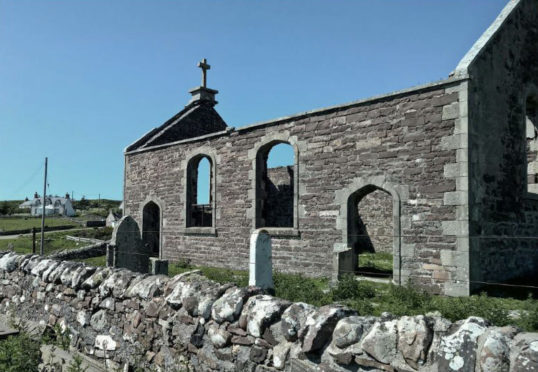 The controversy miring the restoration of a historic Sutherland church has finally been laid to rest after the Scottish Government overturned two planning decisions to give it the go ahead.
Edinburgh architects MorganMcDonell applied to restore the ruined Stoer Parliamentary church, Lochinver, making it residential and available as a holiday let.
Local residents' fears the graveyard would be disturbed during construction and by future visitors were supported by Highland councillors, who refused planning permission in April.
Their refusal was initially upheld on appeal by Scottish Government reporter Sue Bell because of a 'tangible risk' that damage could be caused to gravestones through access to the residence and during renovation work, and thus fail to preserve the setting and special interest of what was at the time a C-listed building.
After Historic Scotland de-listed the church, although keeping it on the Buildings at Risk Register for Scotland, MorganMcDonnell appealed the refusal again.
This time, Scottish Government reporter Sinéad Lynch overturned the previous decisions and granted permission for the restoration to go ahead.
She said the conversion of the Stoer church 'would not be significantly detrimental and may contribute to re-population and strengthening of services.'
Objectors raised the spectre of holiday home guests using the graveyard for recreational purposes, but Ms Lynch said given the lack of views and open space in the graveyard, 'the likelihood of such uses occurring are limited'.
She also said space for a drying green, bin storage and parking spaces could be found away from the graveyard, which would remain in the ownership and management of Highland Council.
The 1828 Parliamentary church was designed by Thomas Telford.
Ms Lynch agreed it was important historically and that the conversion should be sympathetic.
She said she was satisfied that the proposed conversion was appropriate for its setting, adding that in her view it would not deter tourists from visiting the church, another bone of contention among objectors.
The council's north planning committee discussed the decision yesterday.
Councillor Margaret Paterson said she was bitterly disappointed that  the decision had been overturned.
She said: " I'm distraught, this is a historic church.  We're custodians of Thomas Telford churches  and we should be taking that responsibility."
Guy Morgan, CEO of MorganMcDonell said: "Following a long, arduous and stressful process, we are very relieved to have finally secured planning permission for the restoration of this beautiful building and in doing so ensured its survival for hundreds of years to come."