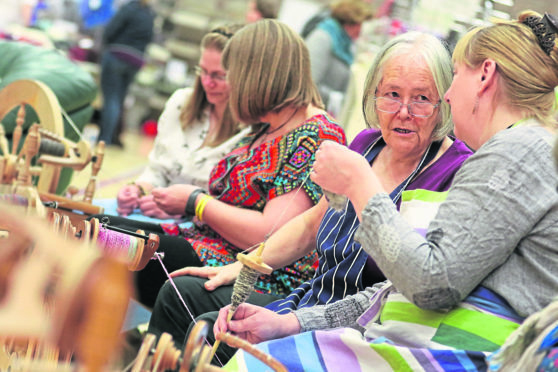 Thousands of knitters from across the globe descended on the Highland capital at the weekend to secure a record-breaking turnout for the Loch Ness Knit Fest.
More than 2,000 people from 20 different countries attended the third annual event at Inverness Leisure Centre.
They enjoyed an array of talks from local designers and musical performances from Wilson Noble, Feis Rois and The North Atlantic Project while also taking part in events in bustling market and showcasing their individual talents in the crafting village.
Festival organiser Cecilia Grigor said she was "blown away" by the turnout, adding: "We are absolutely delighted with the feedback. Everyone is really positive and they are already looking forward to next year.
"The highlight has been seeing people coming from all over the world. We thought we had 19 countries but it appears we have people from Russia here as well so we are up to 20 countries.
"It's just amazing for us to see people come together in the Highlands – and it's all about yarn which is great."
A total of 10 local charities were represented during this year's event, including those helping to promote positive messages surrounding cancer, child abuse and mental health.
The event's chosen charity was the Special Care Baby Unit (SCBU) at Raigmore Hospital in Inverness, who have received more than 400 donations during the weekend.
The event comes just weeks after Highlanders backed the Trauma Teddies campaign – bought forward in collaboration with Police Scotland and Highland charity Safe Strong and Free – to help bring comfort to children affected by distressing situations.
More than 800 knitted teddies have so far been donated to the scheme.
Laura Fiddes, of Safe Strong and Free, said: "A lot of people have already heard about trauma teddies and a lot of people knit them for the purpose of different charities in the area. It's lovely to be able to tell them all about what Safe Strong and Free do and to see their interest and see the recognition of people regarding the trauma teddies initiative."
As the event drew to a close yesterday, organisers are already hoping next year's event will prove to be even more of a success.
Mrs Grigor added: "Year on year we are growing and we are listening to feedback from attendees, venders, exhibiters. We are here to grow and we want them to be part of the journey.
"We are hoping to grow the numbers. We have had 2,000 this year so if we get to 3,500 next year we will be delighted."