A brown suitcase could be the missing clue in the 42-year-old mystery disappearance of a Highland housewife and her young son.
Murder squad detectives have revealed a keen interest in tracing the luggage belonging to missing Inverness mum Renee MacRae and three-year-old Andrew.
The whereabouts of the Antler-made, tobacco-coloured case – the details of which have been made public for the first time to the Press and Journal – is being treated as a "significant" piece of evidence.
Police issued an appeal last month – on what would have been Andrew's 45th birthday – for information about the toddler's pushchair.
Details of the suitcase have now been revealed as Police Scotland and Renee's sister Morag Govans renewed an appeal for information as they today mark the 42nd anniversary of the mother and son disappearing.
Detective Inspector Brian Geddes said: "A pram and suitcase we believe were in Renee's car remain missing. They are clearly of significance.
"Any information about their whereabouts will be followed up. It was an Antler suitcase and tobacco-coloured."
DI Geddes also revealed the existence of another publicly-unknown piece of evidence – an anonymous letter detailing "suspicious activity" at a quarry near Inverness on the night of the disappearance.
He said: "Specifically, I want to take this opportunity to appeal to someone who wrote anonymously to Northern Constabulary in 1982 regarding information surrounding activity at an unnamed quarry on November 12, 1976.
"It appears that this person had moved away from the area in the subsequent years. If you recognise yourself as the writer of this letter then I urge you to get in touch with the investigation team."
---
>> Keep up to date with the latest news with The P&J newsletter
---
He said the existence of the letter only came to attention of investigating officers "poring through every single item we hold" during their current review of the case.
Regarding recent police activity at Leanach Quarry, near Culloden Battlefield, the detective said this was "an assessment" of the location for possible follow-up work in the future.
He added: "It was not a search. It was an assessment of the profile of the quarry. It is one of a number of locations we will be looking at, including Dalmagarry Quarry. We will not be in a position to say what we will do at these locations until the review is complete."
Mrs MacRae, who was 36 at the time, left her home in the Cradlehall area of Inverness with both her sons on November 12, 1976, before dropping her elder son Gordon with her estranged husband Gordon MacRae.
She turned south on to the A9, reportedly on her way to meet her lover, Bill MacDowell, an accountant in her husband's building company, with the couple said to be planning to start a new life.
Her burned-out BMW car was found with a bloodstain in the boot in a lay-by, a mile south of Tomatin.
A murder inquiry was launched, but the bodies of the mother and her three-year-old son have never been found since that night.
No one has ever been convicted of their killing.
DI Geddes said the major investigations team was "poring through every single" item of information held about their disappearance to find new angles and develop existing lines of inquiry.
"All the indications are that Renee and Andrew came to harm 42 years ago and as such this is being progressed as a murder investigation," he said.
He added: "We are applying the most modern investigative techniques in a bid to progress the investigation and this will include utilising advances in forensic science.
"Our goals are to bring a person, or persons, to justice and to locate the remains of Renee and Andrew in order to bring some form of closure to Renee's sister Morag and the rest of the family.
"The chances are that person or persons responsible for the murders of Renee and Andrew will have enjoyed a life, something which was denied to Renee and Andrew.
"With that in mind I would again appeal to anyone who has information, even if they are not sure if it is important, to come forward and contact us."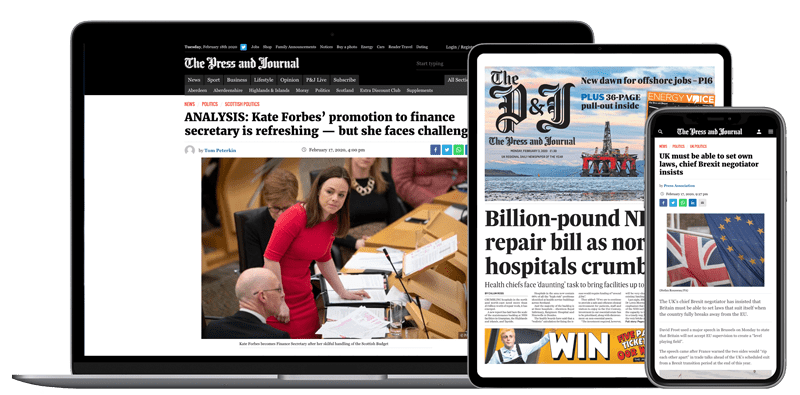 Help support quality local journalism … become a digital subscriber to The Press and Journal
For as little as £5.99 a month you can access all of our content, including Premium articles.
Subscribe