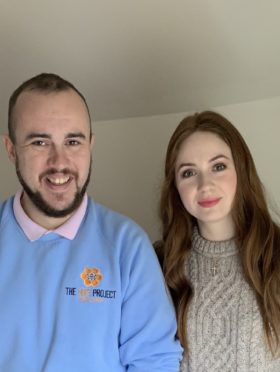 Hollywood A-lister Karen Gillan yesterday kept her promise to support Highland mental health charity Mikeysline, visiting the centre to discuss with staff the initiatives and schemes currently being implemented by the charity.
The former Dr Who actress, who hails from Inverness, pledged last week to support the organisation after stating she was "concerned and worried" about the high suicide rate in the Highlands.
Speaking yesterday during her visit, Miss Gillan told STV News: "The rates are much higher amongst men than woman and we feel a lot of that is down to men not being able to express their emotions and feelings as evenly as women.
---
>> Keep up to date with the latest news with The P&J newsletter
---
"I think that I want to get word out there and help them in feeling that they can express themselves.
"There's a statistic that suicide rates among young men in the Highlands of Scotland are significantly higher than the rest of Scotland and I was really happy to hear there is a scheme in place to combat that and help people in the area and coming here has just been amazing."
Stephen Reid, operations manager at Mikeysline, said: "There is no doubt about it, everyone was on cloud nine and it made their day and she was so nice to everybody.
"We had a chat about the work that Mikeysline do as well as mental health problems in the Highlands.
"It was a really nice meeting. She is so down to earth and is an Inverness girl just looking to do her bit.
"Karen is very keen to help out and is willing to do as much as possible to spread the work of Mikeysline. She has even taken away a Mikeysline t-shirt and has said she will share an image with her Instagram followers.
"We are very welcomed that she wanted to come in and open a discussion relating to mental health issues and we would be more than willing to do that with anyone. We are very happy she wishes to amplify our message and that is massive for us and the whole of the Highlands.
"She is a very down to earth person, who cares about her community which is very nice to see."
Miss Gillan pledged to support the charity after speaking during a Q&A session following the launch of her new production The Party's Just Beginning at Eden Court last week.
The film explores the difficult topic of suicide, incorporating heavy drinking, occasional drug taking and scenes of a sexual nature.