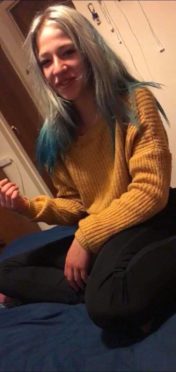 Police are calling for residents in Inverness to check sheds and outbuildings to help find vulnerable teenager Jade McGrath who was last seen in the Leachkin area of the city.
Police made a third appeal for help to find the 19-year-old yesterday, after no further reports of the young woman were made since Wednesday.
On social media one woman, who believed she may have seen Jade, confirmed she was mistaken.
On Police Scotland Highlands and Islands Facebook page, Jenny Fountain said: "Sorry, just checked with staff, just someone who looks the same."
Friends of Jade's family have been making their own appeals for Jade, from Aviemore, to come home, or to phone her mum.
Marie Morton said: "Jade, come on sweetheart!"
24-hours later, she pleaded with Jade: "Please call your mum! She is worried sick! You and I could always have a good chat."
Jade was last seen during the early afternoon of Wednesday in the Leachkin area of Inverness.
She is considered to be vulnerable and officers are keen to ensure her safety as soon as possible.
Inspector James Rice said: "Jade has not been seen since Wednesday afternoon and as time passes her family are naturally growing increasingly concerned for her.
"We have been carrying out thorough enquiries to piece together Jade's movements since she was last seen.
"So far we do not have a confirmed sighting since she was seen in the Leachkin Road area so I would urge residents who live around that part of the city to be vigilant.
"Please thoroughly check any sheds or outbuildings in case Jade has sought shelter and report any information you feel could be of assistance to us as soon as you can.
"It is also possible that Jade could have travelled away from the area so I would urge everyone to be vigilant and get in touch if you believe you have information which could help.
"If Jade herself is reading this then please let us know you are okay. You are not in any trouble and your family just want to make sure you are safe."
Jade is described as being about 5ft 1in and of slim build, with platinum blonde hair and blue eyes.
When last seen Jade was wearing a light grey turtle neck top, parka jacket, black leggings and black/white coloured Nike trainers.
Anyone with information which could help locate Jade is asked to call 101.