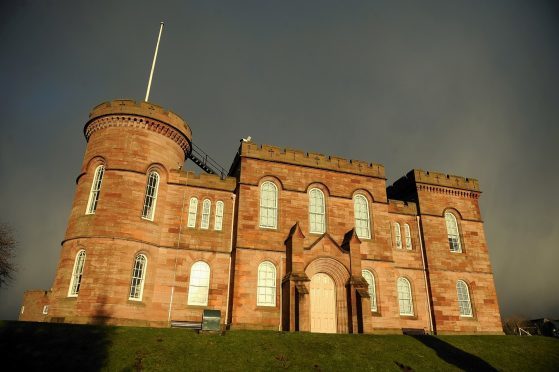 A 41-year-old man was sent back to prison to complete a three-year jail sentence imposed in 2016 for trying to build his own firearm.
David Collins, who had been living in Inverness after previously being in Cromarty, was released approximately six months ago after only serving two years of his punishment.
But last month he was convicted by an Inverness jury after trial of unlawfully possessing a hacksaw blade in his rucksack when police searched him and his belongings in the B and Q car park on June 30 this year..
Sheriff Margaret Neilson ordered that he be returned to prison to finish the remaining 11 months and added another 14 months for the hacksaw offence.
However she could have remitted Collins to the High Court for a risk assessment and sentencing due to his previous record, which included a 10 year Edinburgh High Court sentence in 2005.
But defence solicitor David Patterson persuaded the Sheriff not to pursue this course of action despite his previous serious offences.
Collins, then aged 27, was jailed for five years with a five year extension which he served after he threatened to shoot former colleagues because they always whistled 'The Addams Family' theme tune when he passed.
He had admitted possessing firearms with intent, causing his mother Ann and brothers, Christopher and Robert, to believe that violence would be used against them.
The charge went on to claim that his family also believed police, bus drivers and employees of an Invergordon cosmetics firm and others were also a target.
Workers told police at the time they would jokingly whistle the tune to the comedy TV programme about a macabre family because they thought he was creepy.
Collins also pleaded guilty then to possessing two air rifles and eight airguns.
Eleven years later in 2016, Collins admitted at Inverness Sheriff Court to possessing an armoury of weapons and weapon parts.
His cache included a deactivated Makarov 9mm pistol, two magazines each containing eight 9mm cartridges containing full metal jacketed bullets, a silencer, telescopic sights and air rifles and air pistols, a deactivated .38 Webley revolver and flare pistol ; and five containers of .22 air weapon ammunition.
The court was told that Collins had the knowledge to reactivate weapons and when asked by police if he intended to harm anyone, he replied: "No, not at the moment."
The court heard that Collins described himself to police as a firearms addict.
He said he decided to purchase the weapons to construct a viable firearm.