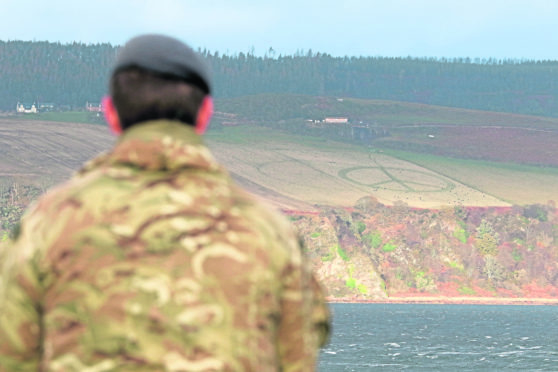 A Highland businessman has created a 10,000 square foot peace sign directly opposite a military base in a protest against escalating global conflict.
Kenneth Adam, 39, who runs a holiday home firm in Rosemarkie, near Inverness, mowed the giant symbol in to a field of grass overlooking Fort George, home of the Black Watch Battalion.
Mr Adam said: "I'm worried about the direction the world is going in. I worry about the possibility of wars with Iran and China and the way it's going with Trump. It all seems to be going a bit bonkers in the world. This was my little personal protest."
The symbol, often associated with the anti-nuclear weapons movement CND, is clearly visible to tourists visiting Fort George, and the military personnel stationed there.
Mr Adam addd: "Maybe the location motivated me to do it. Whenever I hear the live firing exercises, that makes me think of the wars in the world and all the troubles.
"We're very insulated from all of these issues in the Highlands. All of these problems in the world seem very far away. But maybe it's closer than we like to think. It would be good to get people to think about those bigger issues."
The businessman has previously been involved in political activism, having protested at the G8 summit at Gleneagles in 2005 and taking part in this year's March for the Future in London, to demand a public vote on the final Brexit deal.
He said that he hoped his peace sign would be noticed by people flying in and out of Inverness airport and by marine traffic on the nearby Moray Firth.
It took less than two hours to create the sign in one of his family's fields, using a rotary mower towed by a quad bike.
An Army spokesperson said: "We appreciate that people have varying views on defence. The field is private land and the landowner is entitled, within planning law, to do whatever he likes with it."
Visitors to Fort George reacted positively to the peace sign.
John Thorpe, from Sussex, who was at the base to meet his son who serves in the Black Watch, said: "I wouldn't interpret the sign as anti-military. The state of the world is a very serious concern, but I'd prefer us to be in a position of power and assure a peaceful outcome by being strong."
Alexander Schmidt, 44, visiting from the Black Forest in Germany, said: "I think the sign is a good idea. Peace is for everybody. Why should it cause offence? I think the military would prefer peace also."
David Thomson, 81, from Grantown-on-Spey, said: "I'm an ex-Army man so the sign does clash with that, but I don't mind. It doesn't offend me. Everybody's got a right to their own opinion."