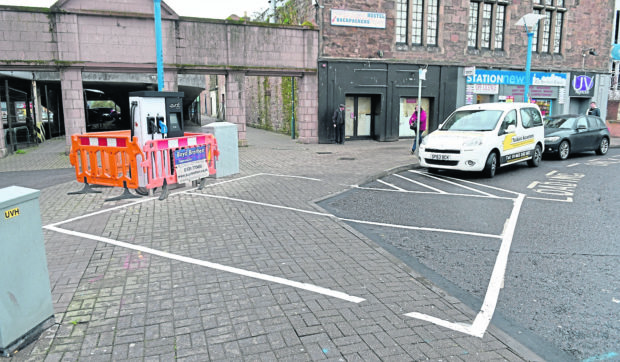 Sight campaigners have criticised the installation of an electric car charging on a pavement at Inverness's busy bus station.
The installation of the Electric Vehicle (EV) charging station on Margaret Street has raised serious concerns over its impact on partially-sighted pedestrians.
The device has been installed to charge electric taxis operating across the city and is at the head of two large parking bays marked out across the public path.
Highlands and Islands Transport Partnership (HITRANS) installed the charger last month as part of their Electric Vehicle Strategy for the north – which aims to cut down on carbon emissions across the city.  The project is part of a European-funded initiative to promote the wider use of electric buses and cars.
Hitrans apologised for any inconvenience.
---
>> Keep up to date with the latest news with The P&J newsletter
---
Highland Council worked with the suppliers of the device when deciding upon the ideal location for the charger – and they have said it leaves ample room for pedestrians.
But sight loss charity RNIB Scotland has raised considerable concerns over the implications this obstruction could have on those living with vision impairment.
A spokesperson for RNIB Scotland said: "We would be concerned about any obstacle that could present a potential hazard to blind and partially sighted people. A third of people we surveyed a few years ago reported they had been injured outdoors. We believe pedestrian thoroughfares should allow for clear, uncluttered right of passage. This is particularly important in places like bus stations as people with sight loss generally rely on public transport more than most."
Meanwhile, local councillor Bet McAllister said a better location could have been found for the device.
She said: "It just annoys me when they do things like that. It's someone not thinking about how it will affect the general public and not just people with disabilities. You have people pushing a twin buggy, people coming out of the bus station with suitcases; it affects everyone.
"It's a busy street; I'm not happy about that. I am sure there are other places  they could have found to put it."
This charger is one in a number which have been installed at various locations across the city including at Inverness Airport.
HITRANS and Highland Council will continue to monitor the chargers usage and impact following its installation.
A spokesman for HITRANS added: "We will work with the Council and contractor to ensure remedial action is taken and that an early completion of the installation can be achieved.  We are sorry that those with visual impairment have been affected by this work."
A Highland Council spokeswoman said: "The new bays do occupy an area previously available to pedestrians however even if bays are occupied by vehicles a width of over 3 meters is still available to all pedestrians behind the EV Bays."