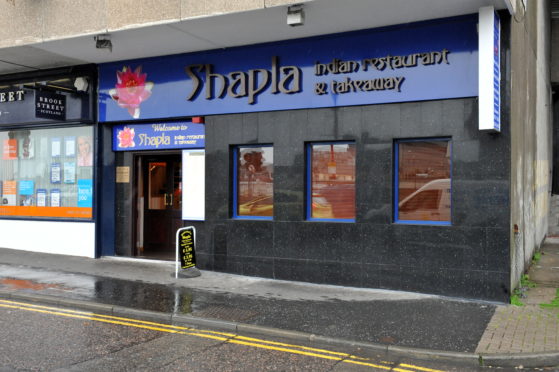 An Indian restaurant owner who allowed his kitchen to be used despite unhygienic conditions was fined £2,250 yesterday.
It was the second time in seven years that the Shapla in Castle Road, Inverness, had fallen foul of food hygiene laws.
Owner Shabaro Ali, of Pilmuir Road, Forres appeared at Inverness Sheriff Court yesterday and pleaded guilty to three contraventions of the legislation.
Sheriff Gordon Fleetwood was told that Ali, 54, owned two restaurants in Inverness plus others throughout Scotland.
But when environmental health officers visited the Shapla for a routine visit on June 20 last year, they were shocked to find dirty, greasy floors, worktops, shelves, electrical switches and utensils.
Inspectors also discovered that items like a microwave, an oven, can openers, potato peelers, fridges, cookers and jars had not been cleaned or disinfected.
Fiscal depute David Morton added that there was a risk of cross-contamination because raw and ready to eat food were stored next to each other in open or damaged containers which were stacked on top of each other.
He added that Ali had a similar conviction from 2010.
Defence lawyer Marc Dickson said that his client had replaced all of his kitchen staff and appointed a new manager since the incident.
Mr Dickson went on: "Because of other commitments, he wasn't able to carry out his visits to the Shapla on a daily basis.
"This happened during the religious festival of Ramadan when the staff are not allowed to eat during daylight hours.
"Other businesses of his were inspected around the same time and there were no difficulties.
"After replacing five members of staff, he closed the restaurant for three days and has done everything in his power to rectify matters.
"He also replaced formica worktops with stainless steel ones as well as other items in the kitchen."