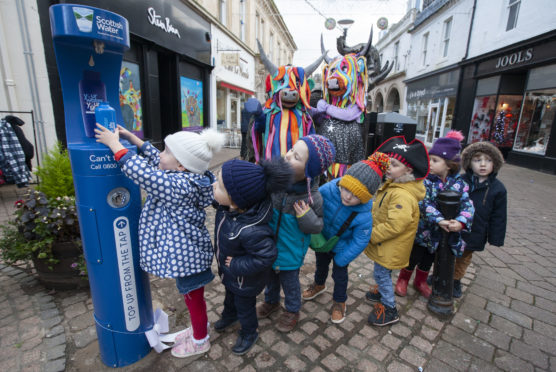 Inverness and Fort William residents and visitors will soon be able to top up their water bottles in town with the installation of new water stations this spring.
The 5ft blue water dispensers will be installed by Scottish Water in Inverness High Street and Gordon Square, Fort William, in a project to encourage people to "top up from the tap" using refillable bottles.
The water stations are made from marine grade steel, with built-in technology to enable Scottish Water to send data back to their operations centre.
The data loggers will provide information via cloud technology which can be translated into cost and plastic savings, as well as the volume of water used.
They will comply fully with public health and legislative requirements and will be inspected regularly.
---
>> Keep up to date with the latest news with The P&J newsletter
---
The Top Up Taps are part of Scottish Water's Your Water, Your Life campaign to encourage people to choose to drink tap water in their daily lives, saving money and helping reduce waste and impact on the environment.
The top up  stations will run off mains water, and will be free to use.
There are only three so far in Scotland – in Edinburgh, Ayr and Glasgow.
Scottish Water plans to install a further seven over the coming months, including the two in the Highlands, with a total of 30 in towns and cities over the next two years.
Planning conditions granted for Inverness by Highland Council only permit the Top Up Tap to be in place until 2021. This is to address council concerns about street furniture clutter in the area by reviewing the location at the end of three years.
Councillor Jimmy Gray, Highland Council Administration's lead for the Environment said: "Reducing the use of single use plastics is an important part of our overall waste strategy which will help us prepare for the landfill ban in 2020.
"We all have a responsibility to look after our environment and the council has an important role in taking the lead in this."
Scottish Water chief executive Douglas Millican said: "Our research shows that people feel very positively towards the quality of Scotland's tap water – now these state-of-the-art taps can provide access to enable water drinkers to enjoy it while on the go by carrying and using refillable bottles."