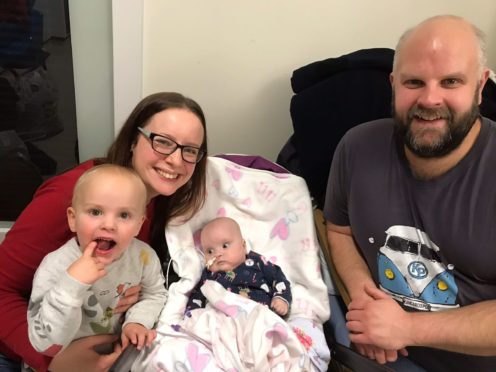 A Fortrose father has thanked The Archie Foundation for the care shown to his family by handing over £4,550 to the charity.
Gareth Vaughan, along with his employer Towergate Insurance in Inverness, donated the money following his fundraising bake sale to aid the Fresh Air Project at the Highland Children's Unit after the birth of his second child Carys.
A sum of £350 was raised through the bake sale, with a further £200 being donated by Towergate's charitable arm, the Ardonagh Community Trust (ACT). The ACT provided a further grant of £4,000 towards Mr Vaughan's fundraising efforts.
Mr Vaughan said: "We spent a huge amount of time in hospital in Inverness.
"It was like a base for us to be a family. Our son Ben was only two when this was all going on, and he had to be there to spend time with us and his sister.
"A hospital ward isn't a place for a two-year-old and it wasn't very practical. We didn't want him bringing in bugs from outside – or having the chance of him catching anything.
"That's why the play area is invaluable. It meant Ben could get out and play but we could also all be together as a family while Carys was in hospital."
Christina Brockman-More, fundraising manager for The ARCHIE Foundation, said: "This is an incredible donation to receive and we can't thank Gareth and the Ardonagh Community Trust enough.
"This money will go a long way to helping reach our fundraising target for the Fresh Air Project."
Archie's Fresh Air Project is set to transform the areas surrounding their Highland Children's Unit with topiary animals – including a 30ft Nessie – allowing children and their families to play outside in all elements.