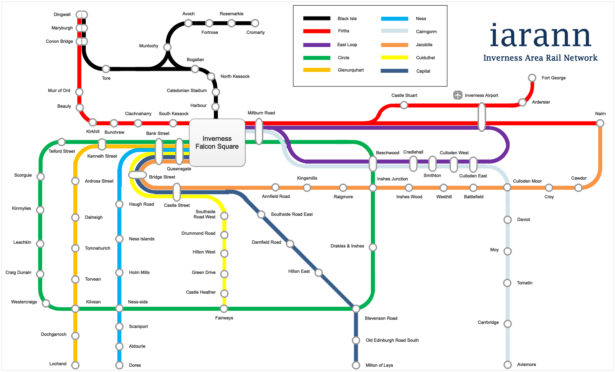 What's the quickest way to get from Scorguie to Culloden?
Simple, you just take the Circle line to Falcon Square, then take the East Loop to one of the two stops there.
Or if it's Culloden Moor you need to get to, change at Falcon Square and take the Jacobite line to Battlefield.
---
>> Keep up to date with the latest news with The P&J newsletter
---
Sadly, rather than being the reality of public transport in the Highland capital, this route is just the brainchild of Inverness writer Simon Varwell.
Mr Varwell, who has published three books and works in education, created the fantasy metro network after pitching the idea to CityMetric, the cities website of The New Statesman magazine.
He said: "The capital of the Highlands has so much to offer, nestled between mountains and sea, and with a booming tourism industry, beautiful river, rich cultural scene and excellent nightlife.
"And perhaps now, it could also be known for the country's most unnecessarily expansive tram network."
The population of Inverness may have been booming for years but despite that, it is still light years away from trams and subway stops.
Flyover to end traffic gridlock in Inverness moves "major step" closer
It's still a minimum of six years before the A9 will be fully dualled – a project that has been decades in the making – so locals shouldn't hold their breath over the chances of getting a network to match the world's biggest cities any time soon.
Still, we can but dream though and Mr Varwell's vision has certainly captured the imagination on social media.
His network is called the Iarann – the Gaelic for iron and nearly an acronym for the Inverness Area Rail Network.
It comprises of ten lines – Black Isle, Firths, East Loop, Circle, Glenurquhart, Ness, Cairngorm, Jacobite, Culduthel and Capital – and covers from Dingwall in the north, as far east as Nairn, as far west as Lochend and south to Aviemore.
Falcon Square is at the heart of the action, the city centre spot operating as the main hub which all 10 lines start at.
Millburn Road, Beechwood and Kenneth Street are all major stops which have several lines crossing through them.
But while it's a bit of fun, Mr Varwell, 40, still hopes it might spark a bit of debate about the state of public transport in Inverness and how to reduce the number of people using cars.
He said: "The aim of the network is, primarily, to get cars off the road.
"Inverness is not a hugely congested city, though the city centre is certainly getting that way and there is definitely more to do to help the city be the green place it could easily be.
"I could endlessly update and improve this network but I'm not going to. Hopefully it prompts the imagination of other people, who maybe want to come up with their own ideas.
"And if it does genuinely get anyone thinking about how else we might get people out of their cars in Inverness, then all the better."