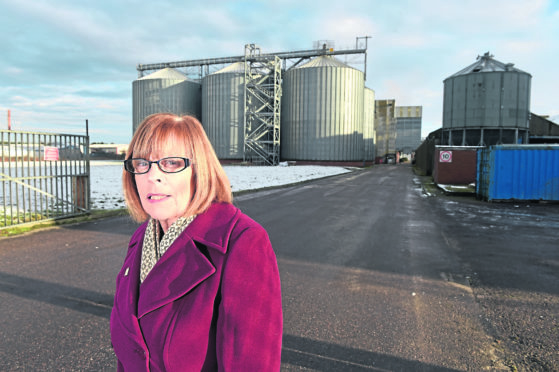 Multi-million pound plans have been unveiled to quadruple production at an Inverness barley malting plant which supplies the country's whisky distilleries – sparking a jobs boom to the area.
Bosses at Bairds Malt, based in the city's industrial Longman area, have lodged a pre-planning application with Highland Council to build a new state-of-the-art malting plant at the site.
The existing maltings was constructed in the 1970s and the current annual production capacity is around 42,000 tonnes.
If the company's proposal is given the go ahead then the capacity will increase to 156,000 tonnes – almost four times the amount.
A spokesman said the development would not only protect jobs at the firm but provide new opportunities – although exact numbers are not yet know – but would provide a "very positive impact" on Scottish malting barley supply from the area and associated businesses.
The proposal was last night welcomed by city councillor Bet McAllister.
She said: "I think this would be an excellent development for the city providing essential new jobs.
---
>> Keep up to date with the latest news with The P&J newsletter
---
"I am impressed at the vision of the company and would ask they think about the possibility of providing some form of apprenticeship scheme to provide a future for new employees."
The plans including the construction of expanded steeping, germinating and kilning facilities on vacant brownfield land within the property, immediately to the north of the existing factory and storage silos.
It is part of a £51 million investment by owners GrainCorp to expand its Scottish malting capacity, reflecting strong sector growth and customer demand.
Managing director and chief executive Mark Palmquist said: "Bairds Malt has a long and proud history suppling high quality malt as the primary ingredient in some of the world's finest and best-known whiskies.
"The new capacity will enable us to build on our strong relationships to remain a supplier of choice across the Scottish distilling industry. Both our Inverness and Arbroath facilities are strategically positioned close to key customers and with good barley supply.
"The market for distilling malt in Scotland has been growing steadily since 2004 and it has a long-term focus due to global demand for aged whisky. The number of distilleries in Scotland has increased by 29 over the past 15 years and large distillers are expanding production capacity.
"Given these factors, we expect to underpin the majority of the new capacity ahead of construction through new or extended long-term agreements."