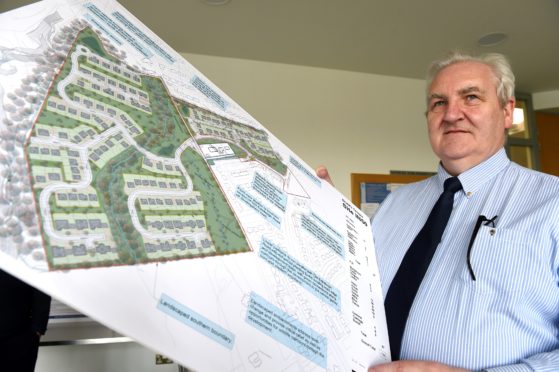 Consultants put on display yesterday plans that will potentially see 150-homes developed in the south of Inverness
The development site, situated around 200yrds south-west of 1 Parks of Inshes at Old Edinburgh Road South, was originally rejected by Highland Council for development due to flooding risks, however, Scottish Government ministers stepped in to overturn the decision after citing the scarceness of prime building land as their main reason.
Developer Tulloch Homes yesterday took the opportunity to allow members of the public the opportunity to speak one on one with consultants, to gain further information or voice concerns regarding the proposed development.
Scott Strachan, consultant of the project, said: "As part of the planning process, we have to do various surveys and investigations covering an array of topics, so relating to traffic, flooding, ecology, topographical, and they all go into the melting pot with comments from the roads department and planning department. From that, and then with the pre-consultation, we will work up a finalised design. So this is very early days.
"People have come in and are interested in how we are going to access the site, how Old Edinburgh Road will function in the future, so people are interested in how they will access their properties.
"Generally it has been a worthwhile process. It has been positive to engage with the public to address their concerns and hear their opinions."
The plans at the site are included as part of the Moray Firth local development plan, which was set up to focus on where developments should and should not occur in the Inner Moray Firth area over the next 10 to 20 years.
Sam Sweeney, the architect of the project, said: "We are developing roughly 30 homes in the Parks Farm phase six, and then on the new development we anticipate somewhere around 120 homes being developed. We also plan to have Old Edinburgh Road maintained as a cycle way and footpath all the way through.
"What we are doing is taking a field and developing it, but leaving behind quite a significant size of parkland that will have public access."
The development of the project from plan to shovel is anticipated to take around two years, should progression at each stage of approval run smoothly.