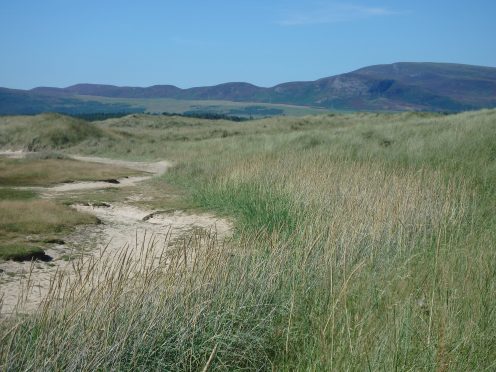 The public inquiry to decide whether an area of rare coastal habitat in Sutherland should become a luxury golf course got underway yesterday with the grilling of a key Scottish Natural Heritage witness.
Professor Stewart Angus was first onto the stand at Carnegie Hall in Clashmore, near Dornoch, to face a full day being questioned by Ailsa Wilson QC on behalf of developer Todd Warnock.
The inquiry, presided over by Scottish Government reporters David Liddell and Timothy Brian, is expected to last four weeks.
It is the latest stage in a long-running saga to determine the fate of Coul Links near Embo, where Mr Warnock, backed by American billionaire developer Mike Keiser, wants to build an 18-hole golf course with clubhouse, private access and full range of supporting buildings.
Mr Warnock's legal team sat in front of a wall of blue case files on one side of the Carnegie Hall, headed by Ms Wilson.
With them were supporters of the development including Sutherland councillor Jim MacGillivray, who is co-ordinating input from the local community, and Highland Council's QC James Findlay and solicitor Karen Lyons.
---
>> Keep up to date with the latest news with The P&J newsletter
---
On the other side, John Campbell QC represented opposition movement Not Coul, headed by ecologist Tom Dargie.
Marcus McKay QC represented SNH and lawyer Neil Collar represented a 'conservation coalition' of RSPB, BugLife, Scottish Wildlife Trust and Scotways.
Around 30 members of the public attended the proceedings.
Professor Angus, SNH's coastal ecology specialist since 1997, told the inquiry  that Coul Links has a dune system comprising four distinct types of dune, grassland, heath, mobile dune and slack dune – describing it as 'one of the most complex dune systems in Scotland', with relatively low levels of human impact.
The Dornoch Firth and neighbouring Loch Fleet have Ramsar status as wetland areas of international importance.
Mr Angus said both the dunes and the Ramsar areas would be adversely impacted by fertiliser or nitrate-rich irrigation water.
Challenged by Ms Wilson about SNH's apparent failure to manage the land, giving rise to  degradation and encroachment by invasive species, Mr Angus said the organisation had tried over years to work with the landowner towards a management plan but this had so far been unsuccessful.
Mr Angus said: "There is no problem here so serious that the cure is a golf course."
Mr Campbell for Not Coul said: "Not Coul looks forward to asking questions of the applicant's witnesses, and to putting forward its views on the proposal."
Meanwhile Mr MacGillivray, who is councillor for East Sutherland and Edderton, said the local community had 12 witnesses in favour of the development to put forward.
He said: "If you look at the state of the Sutherland economy as a whole, what is the alternative? There is no national investment in this area."
Mr Warnock said: "It's been three years, there is a process in Scotland in which complicated decisions like this get made, and I have confidence in it."