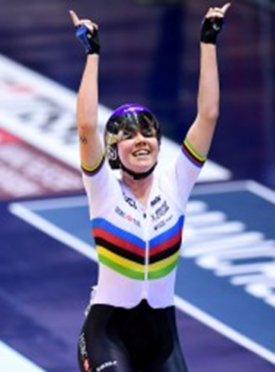 Olympic gold medallist and multiple world track cycling champion Katie Archibald MBE is visiting Inverness tomorrow.
She is to deliver a talk and question and answer session to fellow cyclists and members of the public.
The 24-year-old is heading north from her home in Glasgow to speak at the HiVelo annual general meeting at Inverness' Royal Academy, where she is a strong advocate of the Highland Arena project planned to include an indoor velodrome, which would become only the second in Scotland.
The proposed development is being earmarked for construction near to the Inverness Campus building.
Various technical studies are already underway in support of the revised business plan, with modified proposals portraying the creation of a large multi-sports and community venue.
HiVelo chairman, John MacMillan, said: "This will be a great addition to the expanding Campus and growing East Inverness area as well as catering for the wider Highlands as a whole."
Archibald is to speak about her track experiences to date and the benefits a dedicated facility could bring, including developing the next pool of local talent whilst creating a safe environment for users to utilise.
Doors for the event inside the school's theatre open at 1.45pm and is free to attend, although there will be a collection box for HiVelo.
HiVelo secretary, Mike Greaves, is expected to outline the timetable for project completion and will also unveil a new fundraising initiative as the charity looks to firm up its wider partnership arrangements.
Mr Greaves said: "We are in a strong position to turn the dream of an Arena into a reality and are hoping that the wider community will help support this venture.  Katie is a huge talent and positive role model for cyclists, young and old.
"The meeting will start promptly at 2pm. and public seating will be first-come-first-served.  We are expecting a good turnout."