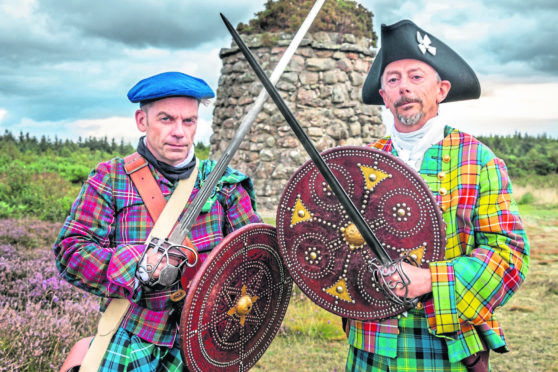 The official guardians of Culloden Battlefield have launched a public appeal to protect the iconic moor amid warnings continued development could ruin the site forever.
The National Trust for Scotland (NTS) yesterday launched an appeal to the public to help them protect the moor from encroachment by developers.
The trust says current legal safeguards don't protect the area and fear unsympathetic development with plans for housing and businesses will ruin the historic landscape forever.
Raoul Curtis-Machin, operations manager for Culloden Battlefield and Visitor Centre is furious about planning decisions made in the past few years which have allowed 'development creep' around the moor.
He described it as 'crazy and a disgrace.'
He said: "It's crazy to allow inappropriate development where you needn't.
"There's a lot of space where you can develop and expand, and yes everyone needs housing – but to spoil an asset like that seems incredibly short sighted.
"It's a disgrace. You have one of the most intact battlefields in the world and yet we don't protect with the simple measures that we've already got."
Mr Curtis-Machin said NTS has undertaken a visual analysis of the land around Culloden and asked a landscape architect to model it with various types of development to show the public.
He said: "We can then show people different types of housing development, of up to three storeys, agricultural and business buildings and ask them what they think might be acceptable.
"For example, would they find a small development in a hollow acceptable, or a power line on a ridge?
"We may not get a consensus, but we think we might. The magic of Culloden is all about the wide open, long views."
---
>> Keep up to date with the latest news with The P&J newsletter
---
NTS is running consultation known as Culloden 300 from now until the end of August, alongside an exhibition at Leanach Cottage on the battlefield site.
Other events will run in June and July. Comments can be lodged electronically, at culloden300.org.uk
A draft document will be produced in September followed by a further consultation with the final vision to be announced in December.
He added: ""The reality is that there are pressures for land in this area and what we want to achieve is a planned and positive approach that protects Culloden and what it represents to so many people.
"We know what getting this wrong means – we just need to look at Bannockburn to see how a piecemeal approach to planning can harm our important historical sites. That's why we are acting now and seeking the input and expertise from everyone who feels a connection with Culloden and its story."
Protesters gather in bid to halt Culloden Battlefield home development
Campaigners against development at Culloden come from all over the world and have found a collective voice on Facebook as 'Group To Stop Development At Culloden.' (GTSDC)
The group issued a statement yesterday saying they support the NTS initiative.
They said: "We fully support this initiative but would have welcomed it five years ago when our campaign commenced after the decision by a Scottish Government reporter to approve the construction of 16 houses on the site of Viewhill Farm.
"It was predicted that the commencement of building there would see other  development proposals put forward. This is exactly what has happened.
"We cite two current examples, Treetops Equestrian Centre application for change of use to a holiday centre and the demolition of the former Viewhill farmhouse and erection of  another house on site by Kirkwood Homes.
"We urge the public to support the conservation of this extremely important site by voicing their opposition to those proposals via lodging objections with Highland Council planning department."
GTDSC member George Kempik posted: "Thousands need to give the NTS the message, don't make Culloden another Bannockburn.
"If they don't have that power, we need them to have that power.
"The site should be a world heritage site."