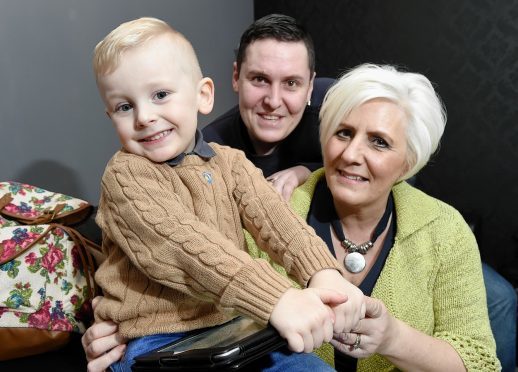 A group of north parents is poised to launch a new campaign demanding a special school for autistic children to make sure they get an education.
Sylvia Mackenzie, of Culloden, says since the council announced cuts of more than £2m over the next three years in its Additional Support Needs (ASN) and Pupil Support Assistants (PSAs) budget, she has been besieged by distressed parents concerned for their children.
She said: "I realised something needs to be done. Every child is entitled to an education and Highland Council is failing so many autistic children.
"There are many, like my own son, who have left school with no education and now claim dole and sit around all day because they haven't received the right support to become employable."
Mrs Mackenzie battled with the authorities for 10 years to have her son Kobe Sutherland diagnosed with autism, and is now battling for a diagnosis for her grandson Kayson.
She said everything Kobe loved and enjoyed, like a project which took him to spend time on a farm and another which got him through Grade 1 swimming, was stopped.
"Those activities could have led to something for him," she said.
Mrs Mackenzie will start her campaign for a school for autistic children after Easter with a protest march on Highland Council with fellow activists bearing banners.
She said: "These children need to be educated and Highland doesn't have enough special schools. Away from Highland there far more special schools. It's a disgrace."
John Beaton, Highlands policy & engagement officer for Disabled People's Organisation Inclusion Scotland said: "Disabled children and young people have a right to participate in all aspects of education and school life and to meet their full potential, the same as their non-disabled peers."
A Highland Council spokeswoman said: "All placing requests to special schools are discussed at a multi-agency admissions group, with information on the child's needs presented by those professionals who know the child well, along with information and the views of the parents, and child if appropriate.
"Decisions on placement are made on need and in the past we have expanded the capacity of all of our special schools in Highland to meet the increased needs identified.
"There are a range of locally-based specialist provisions in a number of schools across Highland and only three special schools and so the needs of most children are met in their local mainstream school and where appropriate in Enhanced Provisions.
"There is of course a physical limit to how many classes and pupils can be accommodated in our special schools, just as there is in any mainstream school.
"Any parent wishing to discuss a placement at any specialist provision in Highland should contact the local area ASN manager in the first instance."