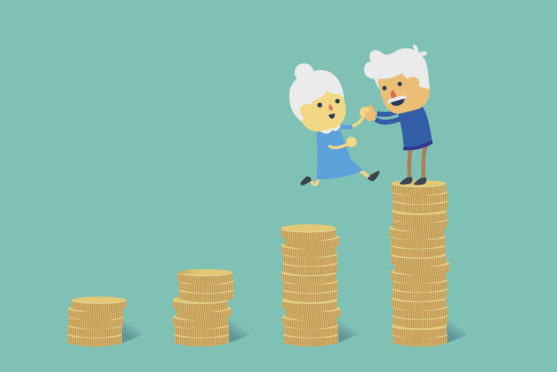 INDEPENDENT FINANCIAL ADVICE ON MONEY MATTERS AROUND THE HIGHLANDS, ISLANDS & MORAY
---
1 in 4 do not know their state pension age

Almost a quarter of people aged between 50 and 64 do not know when they will be able to receive the state pension, research from Age UK finds.
YouGov polled 1,040 adults approaching retirement on behalf of the charity, with 24% of those in the dark about recent changes to the state pension age.
Around one in five (18%) found their state pension age was higher than they previously thought, while 30% either failed to recall checking or had failed to check their state pension age.
Women in this age bracket have been particularly affected after seeing their state pension age gradually rise from 60 in 2010 to 65 on 6 November 2018.
The age at which both men and women receive their state pension is also on course to reach 67 by 2028, and 58% of those polled responded negatively to this prospect.
Almost half of UK workers over the age of 50 would prefer to make a gradual transition towards retirement, research claims.
Opinium polled 1,007 over-50s, all of whom earn more than £20,000 a year, and found that 49% would prefer to adjust the amount of time they work before giving up work altogether.
More than two-thirds (70%) want to reduce the number of days they work each week, while 44% are keen to cut down the number of hours they work each day.
Less than a third (31%) of respondents around the UK preferred the traditional option, where workers go from the usual work pattern to being fully retired in an instant.
The concept of retirement is changing from traditional to transitional. As people enjoy longer life spans, they no longer yearn to down tools and start retirement in one fell swoop. A significant portion of people see the appeal of gently easing of the amount of time they work or altering their working pattern.
What alternatives do you have at retirement or partial retirement?
Raiding your pension before retirement remains a popular option, with more than 1.3 million savers taking flexible payments from their pensions in the three years since 2015.
While the premise of withdrawing 25% of your pension pot tax-free is nothing new, the options you have when you reach the age of 55 have increased.
Before pension freedoms came into force in 2015/16, it was possible to withdraw a quarter of your pension pot tax-free and the choice was simple:
buy an annuity or a drawdown product.
Now, retirement savers are spoilt for choice with several options proving popular for accessing pensions before retirement.
Plan ahead
If you're considering full retirement or partial retirement it has never been more important to plan ahead. Don't wait until you reach your retirement age, seek advice early, research your likely income required in retirement. Match this with the possible income from your pension fund.
Do this years before you retire so you can do something about it if necessary.
Taking money out of your pension pot is the easiest part.
Ensuring it doesn't run out and leave you with insufficient income is vital. Don't look back with regret, plan your future going forward and speak to your Independent Financial Adviser.
Information in this article is sourced from the Campbell & McConnachie Ltd newsletters.
Get Expert Help
David McConachie APFS is a Chartered Financial Planner at Campbell & McConnachie, which is authorised and regulated by the Financial Conduct Authority
visit Campbell & McConnachie's website
---
DID YOU KNOW?
Child Benefit and High Earners
Child Benefit is paid to parents or guardians of children under 16 years of age (or under 20 if still in approved education). This is currently payable at a rate of £20.70
per week for the first child and £13.70 per week for additional children.
If you are claiming Child Benefit and you or your partner earn more than £50,000 per year, there is a 'High Income Child Benefit Charge' applied. If you or your partner earn over £50,000, it may still be in your interest to claim the Child Benefit though:
The benefit is not lost completely until one of you
earns over £60,000.
If you are paying pension contributions, these reduce
your earnings for the purpose of the Child Benefit
Charge – so may bring you under the threshold.
If you make a claim for Child Benefit, you can
continue to receive a National Insurance credit – which
will build up your State Pension, amongst other things.
This can be useful where one of a couple is not currently
earning or paying National Insurance.
Kevin Wood FPFS is a Chartered Financial Planner with Watson Wood Financial Planning, the trading name of Watson Wood & Sillars Ltd which is authorised and regulated by the Financial Conduct Authority. Watson Wood & Sillars Ltd is entered on the Financial Services Register (www.fca.org.uk/register) under reference 806354.
---
Next month's topic is on Mortgages
---
Your Local to Highlands, Islands and Moray Contributors – Click to visit their website.