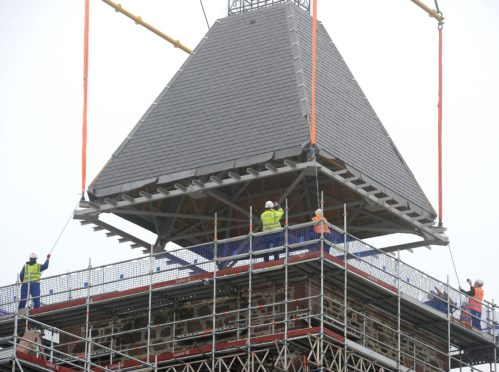 They are really raising the roof for a new city development.
The transformation of the former Craig Dunain psychiatric hospital in Inverness reached a significant milestone today as one of the towers had its roof reinstated – eventually.
The feat was made possible as a 150-ton crane was drafted in to aid in placing the prefabricated top back onto the western tower of the Victorian building.
However, things did not go off without a hitch, with the scheduled lift shifted back from Wednesday as gusts blew in the west part of the city.
The much-anticipated relocation of the roof finally took place at 6.30am this morning, as the still and slightly misty morning allowed for the operation to be carried out in a safe manner.
The tower, which was ravaged by fire alongside the rest of the building in 2007, is part of the extensive renovation works underway on the 19th-century building being carried out by construction firm Robertson Homes, under the Great Glen Hall banner.
Kieran Graham, development manager at Robertson Homes, said: "The whole Great Glen Hall project has been hugely exciting and in construction terms, this is genuinely unique.
"Using local companies and local materials, we have designed the new twenty-ton tower roof in prefabricated steel and it will be lifted into place fully clad.
"The tower is around 20m high so this was the safest way to achieve the outcome and restore the landmark to the way it was."
Developers anticipate the restoration project on the Victorian listed building to be around 18 months away from completion.
The roof of the western tower has been recreated by Metalwork UK in Tain and retains the original slate from the building prior to the devastating fire.
Tim Metcalfe, regional director of Robertson Homes for the north, said: "We are very passionate about this building. We want to bring it into the 21st century but we want to maintain its character and integrity.
"It has sat derelict for 20 odd years and was obviously ravaged by fire back in 2007. The only way to get a building like this restored back to life was to come up with a commercial way to make it viable and, fortunately, there is demand for good quality housing in the area.
"We have been able to create these unique apartments and townhouses, and ultimately it is the people buying them that are saving this building."
Robertson anticipates the total outlay for the project to be £13million, with 60 luxury homes once finally completed.