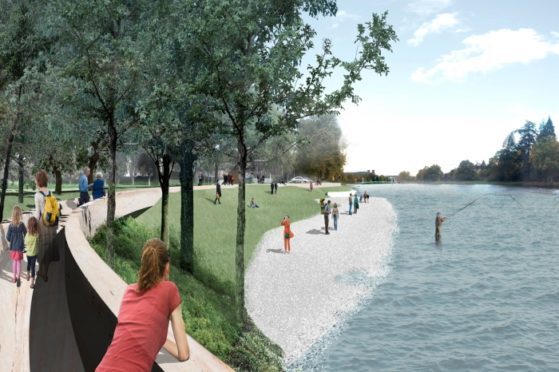 A fresh row has broken out over My Ness, the river art project which has replaced the controversial "Tilting Pier" Gathering Place project.
The project is due to be built later this year, but not everyone is happy with the design or the public funds being used for the project.
Protest group Open Ness, led by Ballifeary resident Helen Smith, had sought a meeting with Inverness provost Helen Carmichael, but was told the provost could not speak to them as they are an unconstituted group.
Council accused of 'running amok' as new group formed to demand answers over My Ness project
Mrs Smith said: "Where has the policy of not speaking to groups unless they are formally constituted come from?
"We are very new so not yet formally constituted but we have so far gathered more than 2,100 signatures against the project online and at two public street stall events in town.
"There are lots of unresolved questions about this project, and as far as I'm aware the public has the right to ask councillors about how public projects are being managed, and how public money is spent, regardless of whether or not they are in a formally constituted group."
She said she hopes the council will listen to the group, if not they will consider crowdfunding to take legal advice on how to try and stop the project.
A Highland Council spokeswoman said: "The council leader has agreed to meet members of the group, not to talk about the My Ness project, but to talk about wider council consultation processes.
"Ward members and officers have met with the community council and other stakeholders with regard to My Ness. "
Meanwhile Mrs Carmichael rebuffed suggestions that My Ness had been decided behind closed doors.
She said: "Every decision made has been open and transparent, discussed at every City of Inverness Area committee, and proceeded with the approval of members.
"The process has met all governance requirements."
She appealed to fellow councillors to step up and join the Inverness Arts Working Group to work towards the smooth delivery of My Ness river art project.
Mrs Carmichael said the working group, chaired by councillor Isabelle Mackenzie, is bearing the brunt of public and internal attack over decisions made about My Ness.
The working group was set up in 2013 with six cross-party spaces for councillors. Two are currently vacant.
One of the loudest councillor critics of the project and the way it has been handled, Ness-side councillor Ron MacWilliam said he wasn't interested in "joining any behind closed doors working groups".
He said: "I was elected in a democratic process to membership of the city of Inverness area committee, the planning committee and as a trustee of the Inverness common good fund and not once have I been able to voice public concern about this use of money, design of the project or the use of the common good owned riverbank.
"Clearly a number of council procedures need to change and I will be feeding that in to the forthcoming review of council governance being undertaken by the chief executive."