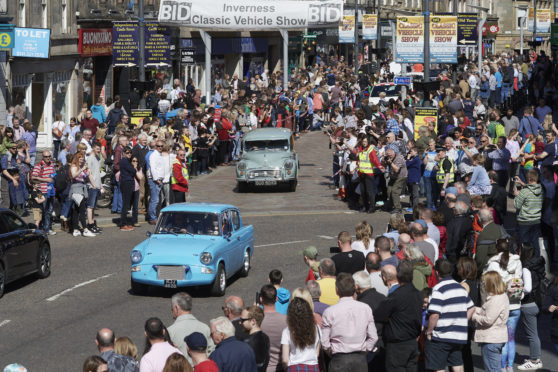 Traffic arrangements have been announced for this year's Classic Vehicle Show in Inverness.
One of the most popular events on the city's calendar, this year will see InvernessBID host the 11th Classic Vehicle show across five different venues on Saturday, May 11.
Falcon Square, The High Street (Eastgate/Inglis St), Church Street (Upper and Lower) and the Castle are the venues chosen to display 195 vehicles, the maximum number allowed in the show.
As a result, Hamilton Street will be closed from its junction with Academy Street to its junction with Eastgate, between 7am and 3.30pm; and Church Street will be closed from its junction with Friars Lane to its junction with Queensgate, between 7am and 3pm.
The vehicles will go on display between 11am and 2.30pm.
At 3pm the Norcon Pipe Band will lead the vehicles from Millburn Road down the High Street, past the Town House and out over the bridge.
MacBrayne's buses and a selection of army vehicles will be on show at the castle, while the other venues will host vehicles dating to the 1930s onwards.
The oldest vehicle is a 1919 motorcycle.
Owners come from right across the north of Scotland.
BID manager Mike Smith said the Inverness show was particularly popular with owners thanks to its city centre parade, different from other shows where the cars are only on static display.
Crowds of up to 10,000 flock to Inverness to see the vehicles and line the streets for the parade.