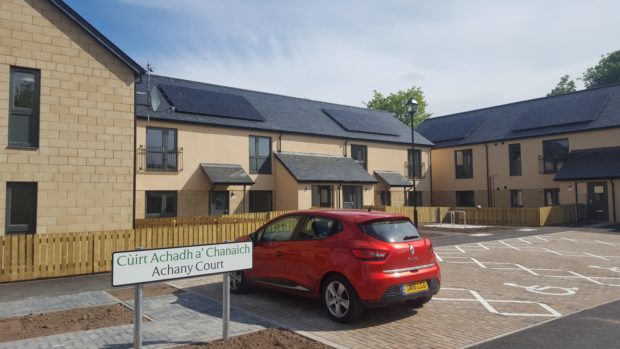 Highland Council has been handed keys to 12 flats in Dingwall to rent out.
Work is now complete on Achany Court, the council's former Education Offices in Achany Road.
The complex was designed by the council's architect service, built by O'Brien Homes and funded by the council and Scottish government.
Three of the flats are fully adapted for wheelchair users.
Dingwall and Seaforth councillor Angela MacLean said: "I was lucky enough to have a preview of the flats and would like to congratulate all of the Highland Council officers involved in designing this development.
"It is stunning and has been done sympathetically to reflect the other properties in the vicinity.
"The standard of workmanship and the thought that has gone into building bespoke future proof homes that can be adapted to suit the needs of our tenants without the need to move, not only benefits our tenants but it also shows that Highland Council is focused on ensuring best value from our investment.
"I can't wait to see the first tenants move in."
All of the flats will be for rent by the council to people on the Highland Housing Register and tenants will be moving in shortly.