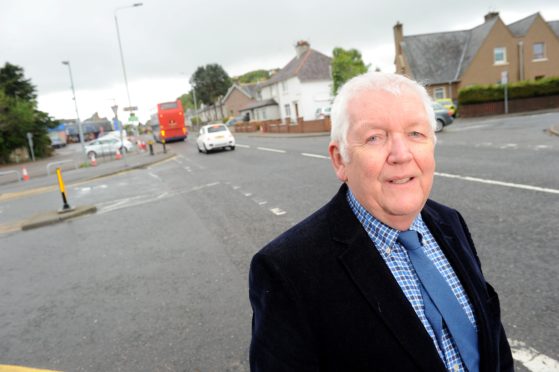 Plans for two controlled crossings on an Inverness road described as "an accident waiting to happen" have been welcomed.
The pedestrian crossings will be located on the A82 Inverness to Glasgow road, one  between Montague Row and Ardross Street – just yards from the council headquarters – and a second between Glenurquhart Road and Smith Avenue near the Scotmid Shop.
Transport Scotland will work with Bear Scotland to complete the works, which are scheduled to be complete no later than next year.
Inverness West councillor Bill Boyd says the improvements have been a long time coming.
He said: "This is good news for parents and young children going to school as well as shoppers and theatre goers.  Although it has taken a while to get to this point, Transport Scotland has come up with a good pragmatic strategy for the area.
"We look forward to seeing detailed plans and timescales for completion of the work. Residents of Inverness West and beyond are looking forward to this new development".
The announcement comes just one year after veteran road safety campaigner MSP David Stewart voiced his concerns following the absence of a school crossing patrol on the Fort William route.
He said he is "absolutely delighted with that decision as it's great to see common sense breaking out".
He added: "I have been campaign on behalf of local residents in terms of safety of residents, particularly for the school children and for those with mobility difficulties.
"I was very concerned about the lack of safe crossings on that street. Basically residents were telling me it was an accident waiting to happen so this is a good bit of common sense.  I'm absolutely delighted that this campaign was a success."
The new crossings will also benefit RAF Air Cadets from 161-1st Highland Squadron, based on Montague Row, who regularly cross the A82 to reach the Council headquarters to practice drill routines.
Officer Commanding Flight Sergeant Neil Jack said: "Delighted to hear that there will be a controlled crossing on the road. We have crossed this road regularly for many years as a group with cadets but the road is just getting busier, making it harder to cross. This will mean that we will be able to cross safely as a group."
A Transport Scotland spokesman said: "Transport Scotland is installing two controlled pedestrian crossings on the A82, at Montague Row and Smith Avenue. Following a review of pedestrian surveys, these locations were found to have the highest crossing demand and coordinate with desire lines. These crossings will improve opportunities for pedestrians, including those accessing the nearby Central Primary and Inverness High Schools, to cross the A82. These two crossings are programmed to be installed in the 2019/20 financial year."