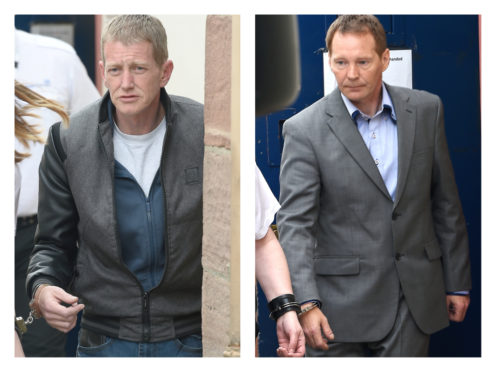 Two Dunbartonshire men who were caught with £60,000 worth of drugs in their car were jailed at Inverness Sheriff Court for their part in "a vile trade".
Sheriff Margaret Neilson had apologised to Trevor Whitley and Colin Gray last month for a "wasted journey" to the Highlands because background reports had not been prepared by social workers on them.
But yesterday, she criticised the pair for "transporting a large amount of drugs into the Highlands".
Jailing Gray for 27 months and Whitley for 13 months, the Sheriff said: "Without people like you willing to act as drug couriers, the people at the top of this vile trade would not be able to survive."
At an earlier hearing, the court heard that police stopped a car on the A9 south of Inverness on May 11 last year. The car was being driven north by Whitley, with Gray the passenger.
Two police officers in a marked vehicle had been deployed to stop the vehicle and search it for controlled drugs. They pulled it over near Daviot at 1.50pm.
Depute fiscal Michelle Molley said: "Once the vehicle was stopped they noticed a strong smell of cannabis emanating from the inside.
"Both accused were detained under the Misuse of Drugs Act. A small amount of cannabis and a knife was recovered from Whitley. A small amount of cannabis was recovered from Gray."
A further search of the vehicle uncovered a box containing five packs of cannabis and another knife among Gray's possessions.
Gray, 44, and Whitley, 45, both of Alexandria, both admitted possession of knives and being concerned in the supply of controlled drugs.
Previously at Burnett Road police station in Inverness, however, Whitley denied knowledge of the drugs and said he had picked up Gray at his home address before they both travelled to Inverness.
Gray also denied knowledge of the drugs and stated he and Whitley had intended to travel to Thurso to see his family.
The Sheriff expressed surprise at this, saying: "The police smelled the cannabis right away."
But Gray's defence solicitor Natalie Paterson told the court: "It was a foolish spur of the moment decision by him."
Whitley's lawyer, Jim Rhodes added: "He was offered money to do a bit of driving. He knew it was something dodgy and when he got in the vehicle he knew what was in the boot.
"He was in rent arrears and when this opportunity arose, he made a poor choice to become involved in this criminal enterprise."
Nearly 5kg of cannabis was recovered.
The court was told this would be worth around £60,000 if divided into 1.5g deals.