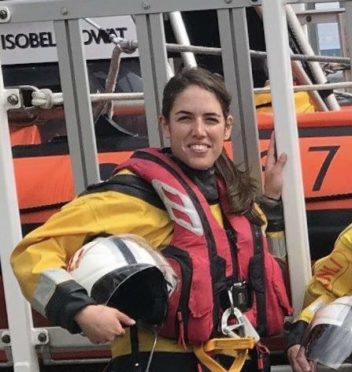 A super-fit lifeboat volunteer from Inverness is all smiles after being named as Scotland's young dentist of the year.
Jane Patterson, who works at the Torwood Practice in Inverness, became a fully qualified dentist in 2012 and secured the accolade just weeks before her 30th birthday.
The young clinician was praised by judges for her outstanding credentials, especially with children and nervous patients.
Ms Patterson said: "I couldn't believe it when my name was read out. Comedian Fred MacAulay was the host and warned everyone to keep their acceptance speech to just three words.
"But I managed to sneak in four – 'I love my girls'. That was for all the girls from work who were sitting at our table on the night. There's a team of around 20 of us at Torwood and they are all brilliant."
A huge part of Ms Patterson's success is her ability to reassure young children and other nervous patients. She says that half are affected by previous poor experiences elsewhere, while the other 50% simply have an irrational fear.
She said: "With kids I want to do anything I can to put them at ease so that in the future they will always see visiting the dentist as a positive experience. I will do whatever it takes, even if that means having a tea party on the floor to persuade a child to hop into the seat. And I've lost count of the number of treatments I've performed on teddies."
She added: "One of my best successes was a young bride-to-be who'd damaged her teeth in a car accident. She was already nervous.
"Not only did she look absolutely beautiful for her wedding, but six months later she was back for her next check-up, hopped into the chair and was totally relaxed. That was so rewarding to see."
The dentist, who hails from Northern Ireland, also doubles up her spare time as a volunteer with the nearby RNLI Kessock team.
She added: "I grew up in a coastal community where we knew every member of the lifeboat crew and they were each seen as heroes. So, I feel privileged to be part of the Kessock crew and part of something that is so important in the local community."