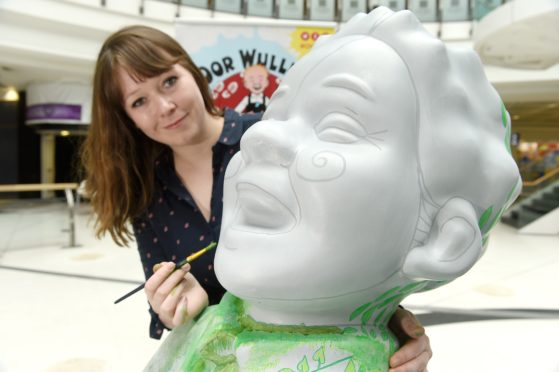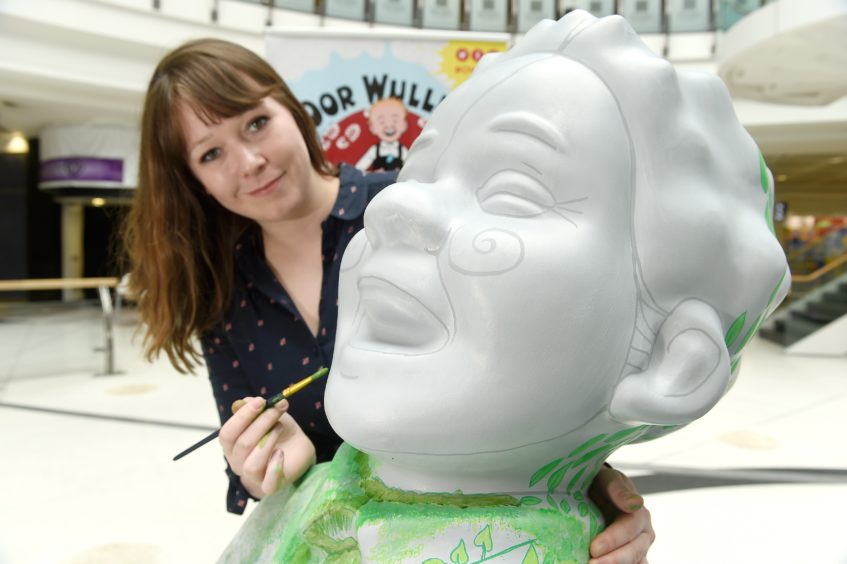 An artist gave shoppers a live demonstration of her work yesterday as she began designing a sculpture for a charity trail.
Local illustrator and graphic designer Claire Maclean is one of the talents involved in the Oor Wullie's Big Bucket Trail coming to Inverness, Aberdeen, Dundee, Edinburgh and Glasgow.
Yesterday, she spent five hours at the Eastgate Shopping Centre working on her design for Scotland's favourite son – giving him a "natural" look.
The sculpture is one of 10 that will be placed around Inverness in the summer to raise money for The Archie Foundation.
She said her design was inspired by genuine love of the natural world.
She said: "I really enjoy nature and the ancient things so I thought I would do an old, ancient stone statue of Oor Wullie that's been overgrown by nature.
"Everything I do of this nature is improvised. I have a loose plan, I haven't mapped it out. I go with my instincts and hope for the best."
Her design depicts Oor Wullie as an ancient stone statue, eroded over time and being taken back by nature featuring fantastical plants, mosses and colourful lichen.
The art trial will run for 11 weeks from June 17 until the end of August helping to raise awareness and vital funds for charity.
Miss Maclean says she feels "very privileged" to be chosen to put her own stamp on such an iconic character.
She said: "I'm delighted to be part of Oor Wullie's Big Bucket Trail and to be painting my sculpture live. It's great to be able to share the painting process with people.
"I'm looking forward to bringing my design to life. Painting an Oor Wullie is going to be quite a challenge, a lot of fun and for such a good cause too.
"I feel very privileged. It's a lot of fun, I like doing this kind of set up and work. I have done work in front of people before but never so set up publicly, so this is a first for me. It will provide me with a bit more confidence in working in public places whilst getting a little bit of experience."
Suzanne Scott, Archie's art director for the trail, said: "I am delighted that Claire is painting an Oor Wullie sculpture for The Archie Foundation.
"Her design is gorgeous, with vines and flowers tumbling everywhere there will be so many little details for you find and colours to make you smile."