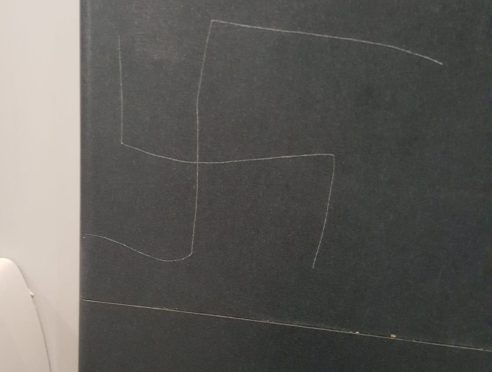 A concerned parent has expressed concern over the "worrying message" being delivered after a swastika symbol has been uncovered scratched into the wall of an Inverness secondary school.
It is understood the symbol, found in toilets marked for S1 and S2 boys at Millburn Academy, has been there for as long as two months.
A concerned parent last night expressed their disgust at the length of time it has taken to deal with the incident.
The toilets have now been closed and the graffiti is being dealt with.
The concerned parent, who wished not to be named, said: "The swastika has been there for at least two months, possibly three.
"I was pretty disgusted to see it the first time and assumed it would be dealt with by staff pretty swiftly.
---
>> Keep up to date with the latest news with The P&J newsletter
---
"My child attends for sports and every now and again when using the toilets we've noticed it still there.
"Whatever the reason for it, leaving a symbol like that on the wall of a boys' toilet for so long suggests tolerance or, at best, indifference.
"That sends a very poor and worrying message to children at the school.
"I would hope the school corrects this and hammers home a message to the kids."
A Highland Council spokeswoman said: "Millburn Academy does not condone graffiti of any sort and was not informed of this incidence. The affected toilets have been closed with immediate effect until repairs can be made.
"We would urge anyone, pupils or members of the public using school premises or any Council property to report graffiti to school management."
She continued: "Our schools work hard to encourage our students to learn from the lessons of the Holocaust and to make a positive difference in their own lives.
"Inverness schools work with the Holocaust Educational Trust and Millburn Academy has senior pupils who are Holocaust Ambassadors who have spoken in recent months to pupils in all assemblies at the school."