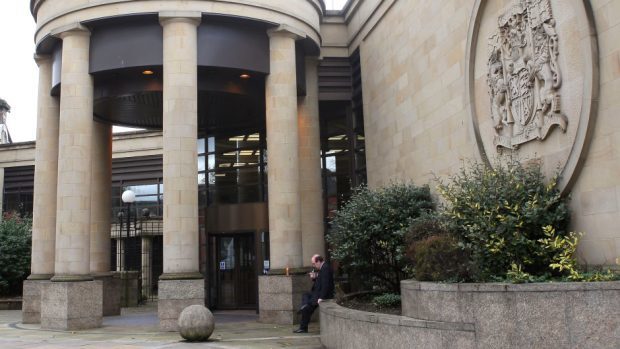 Two Inverness thugs who tried to kill a friend in a brutal attack using knives, broken bottles and a vacuum cleaner were yesterday jailed for a total of 15 years.
Colin Dingwall, 21, and Stephen Burns, 25, pounced on Lee Fraser in his home in the city's Friars Street in December.
Their 27-year-old victim was left with horrific injuries – including a fractured skull – following the attack. He now suffers from nightmares and flashbacks.
He was found bundled in a cupboard when police later arrived.
Yesterday judge Johanna Johnston told the pair: "You each attempted to murder a man who considered you friends. The attack was brutal, callous and sustained and he suffered horrific injuries.
"During the assault you told him he was going to die and left him bundled up in a cupboard in his own home. It was fortunate he was able to call for help. He could have died from his injuries."
Two Inverness men convicted of attempted murder after 'prolonged and extremely violent attack' on a friend in his own home
Judge Johnston jailed Dingwall and Burns for seven and a half years each and ordered them both to be monitored in the community for two years after their release from jail.
The motive for the violence is unknown. But the duo were at Lee's flat on December 16 when Burns, of Heather Road, started lashing out.
Dingwall, of Woodside Village, then joined in as the bleeding victim begged them to stop.
Prosecutor Derick Nelson said: "They remained mostly silent other than to tell Lee Fraser: 'You are going to die today'."
After the violence ended, Lee was tied up with a bedsheet and shoved in a cupboard. A passer-by heard his cries for help.
The attackers meantime called a woman to pick them up at a local supermarket.
Dingwall claimed he had to "get out of town".
One of them was later heard during the journey admitting they had "just slashed a male called Lee".
A paramedic who initially treated Lee branded his injuries "horrific".
Mr Nelson said: "Lee Fraser said he could not walk to the ambulance as his legs and knees were too sore."
He had a host of injuries including skull and nose fractures.
The court was told the victim has moved out the Inverness area as he was too scared to return.
Both men, who have lengthy criminal records, insisted they were good friends of Lee and had not attacked him.
But after seeing photographs of his injuries they admitted their guilt.
Solicitor advocate Shahid Latif, representing Dingwall, said: "He is shocked, disgusted and ashamed of his behaviour."
Advocate David Nicolson, representing Burns, said: "When he saw the photographs of what he had done he offered a plea."