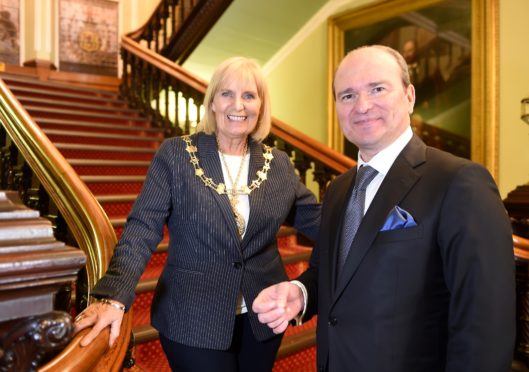 The Russian Consul General yesterday visited Inverness and encouraged local businesses to step up and begin trading directly with Russia, building upon historic relations between the two nations.
Andrey Pritsepov, who was first appointed to the role in March 2014, visited Inverness Cathedral yesterday afternoon, where Russian icons dating back to 1868 are on display, before attending Inverness Town House, where he met with Highland Council representatives.
The Consul General was then whisked off to Fort George in the afternoon, where he was taken on a guided tour of the barracks.
It was during a closed afternoon tea session with Provost Helen Carmichael and Deputy Provost Graham Ross that Mr Pritsepov planned to discuss increasing trade between local businesses and his nation.
Mr Pritsepov said: "I am very keen to encourage trade and encourage local businesses to be more bold and ambitions and look towards possibilities in Russia.
---
Local and Proud: Follow our new Facebook page dedicated to the Highlands and Islands
---
"It is a huge window of opportunity and I would encourage local businesses to look further than the British islands and Europe.
"Without being in Russia or engaging with Russia you cannot be global because of the sheer size of my country."
He added: "Scotland is regarded as a fairy tale country for many Russians because of your literature and it is very popular in Russia. It is high time to capitalise on this high profile of Scotland, and of Scottish produce which is regarded as a very economical, sustainable and green produce.
"Local businesses could do a lot of good both for this country and my country by engaging directly with Russia.
"This will serve as another lifeline between our nations."
The Russian Consul General first visited Inverness back in 2014, where special commemorative medals were delivered to veterans of the Arctic convoys by the Russian government.
Mr Pritsepov's visit to the Highland capital came ahead of his trip to Orkney for tomorrow's commemorative memorial event, where those involved in the Arctic convoys will once again be remembered.
The military feat, which took place during the Second World War, saw the delivery of arms, ammunition, food and other supplies to the Soviet Union as British, American, Canadian, Norwegian and Soviet military forces allied together to thwart the rise of the Nazi regime.
Provost of Inverness, Helen Carmichael yesterday said: "We are delighted to welcome the Consul General back to Inverness and it is fantastic to be meeting him today.
"It truly is an honour and it is great that he is here and has taken the time to come to Inverness and the Town House."