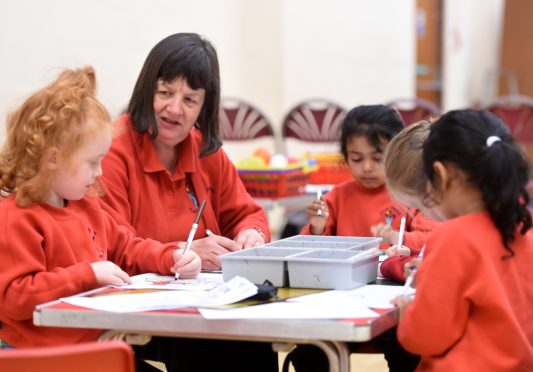 An Inverness playgroup that has run for 30 years has become a casualty of the Scottish Government's new childcare pledge.
Andy Pandy, which has run in Drakies & Culcabock Community Hall for three decades, is to close because it can't meet the criteria to be a provider of the increase of free early learning and childcare for three- and four-year-olds.
In July, Highland Council will withdraw the block grant it has been giving the nursery as a partner centre.
The staff are marking the end of an era with an open day and asking people to dig out their memories.
Staff member Angela Ogilvie said: "We've been expecting this for years, and were prepared for it but it's still hard to believe.
"I put my two children into Andy Pandy 30 years ago, and I became a staff member 23 years ago.
"At the end of term I'll be going out of the door with my granddaughter, things will have gone full circle."
There are currently 29 children at the nursery, all of whom have now been placed at other nurseries.
---
Local and Proud: Follow our new Facebook page dedicated to the Highlands and Islands
---
Mrs Ogilvie said 'hundreds and hundreds' of children have been through Andy Pandy's doors, looked after in recent years by herself, Jackie Darwin and Diane Braid.
The team is preparing a party to celebrate Andy Pandy's three decades on the afternoon of Saturday, June 29.
They have been gathering photos and nostalgic memorabilia for the occasion, and are inviting contributions from parents, grandparents or former pupils who may have something in their cupboards from their Andy Pandy days.
Former pupils will entertain at the party with piping and dancing displays.
Mrs Ogilvie expects many from the community to attend.
She said: "It will be emotional. Everybody feels sad, it's where we all made our friends."
Johanne Abou Aichi put all four of her children into Andy Pandy when they were three years old- Farah, 19, Omar, 16, Yasmin, 14, and Zahra, aged 10.
She said the nursery holds a special place in the neighbourhood's heart as a great asset to the community.
She said: "It's a small nursery, and has an incredibly nurturing atmosphere.
"Angela and the staff are strict but loving, and gave important continuity throughout the years.
"There was structure and activities every day, with lots of learning through play and outdoor adventures.
"They celebrated all cultures, including things like Up Helly Aa, Chinese New Year, Eid and Diwali.
"It was special. We all have wonderful  memories, and all my children – except Farah, who is at uni – will be there at the party on Saturday."
A Highland Council spokeswoman said: "We would like to thank Andy Pandy for working in partnership with Highland Council for many years. They have provided children with a happy and caring early years' experience which parents have valued. We wish all the Andy Pandy staff the very best."