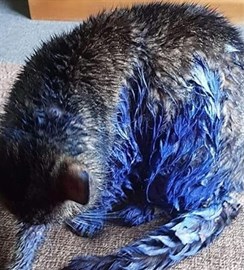 The Scottish SPCA is appealing for information after two cats were found covered in blue paint in Inverness on the same day.
One of the cats has since had to be put to sleep with an unrelated illness, but the charity says the paint would have caused him a high degree of stress in his final days.
Both were found covered in the paint on Sunday.
Inverness mum says beloved pet cat was 'pinned down by thugs and painted blue'
Luisadh Baldie, who owns one of the cats, previously described the moment it limped home, "trembling and traumatised".
Inspector Aileen Ross said: "It is highly unlikely it is a coincidence that both these cats were covered in the same paint in the same city on the same day, so we are keen to speak to anyone who can shed any light on this.
"We were notified by two members of the public who separately reported their cats had returned home covered in an electric, bright blue paint.
"The cats lived in the Culduthel and Old Mill Road area of the city.
"The first caller suspected their cat had been in a fight with another feline and they had paint thrown over them.
"While this could be the case, there are wounds on the neck and paws which suggest they were held down or restrained in some way.  The areas are missing fur, as if they were caused by friction.
"The colour of the paint is very distinctive so we are hoping someone recognises it."