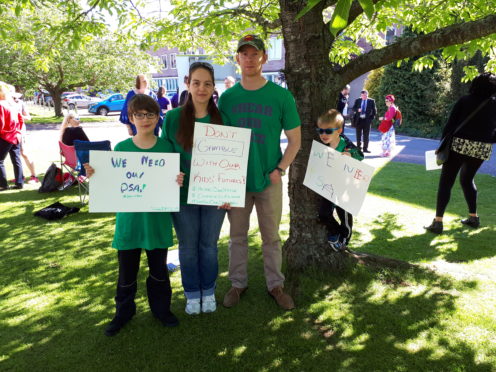 Families and supporters gathered in five towns across Highland to protest against Highland Council's cuts to additional support needs provision (ASN).
The council wants to cut £3.8m this year from ASN staffing as part of a programme to square the council's books by slashing more than £37 million off the budget over the next three years.
The cuts include £2.7m for ASN teaching posts, £700,000 for pupil support assistants (PSA) and £369,000 in specialist support including £250,000 through vacancy management.
Autism and special needs groups have been protesting the cuts for months, and have already held one protest at the council offices in Inverness asking for a new special school to be built.
Highland Action Group for ASN & Education co-ordinated today's protest, with demonstrations also taking place in Wick, Ullapool, Golspie and Inverness.
The organisers said almost 200 people had taken part in the protest, with around 50 in Inverness, Wick and Fort William, and around 20 in Ullapool and Golspie.
In Wick, Jayne Scollay said: "All who turned up echoed the same story that parents are not involved and that already stretched services are being cut further.
"Many children are being failed already and these cuts won't just impact those with additional needs.
"Members of the public were fully supportive of our demonstration and many were coming to talk about issues they have with the already broken system.
"Councillor Willie Mackay came out to talk to parents and shared our concerns."
In Golspie, Claire Findlay said: "All children deserve the best education, it's a right not a privilege."
In Inverness, Carrie Watts said: "I spoke with a number of councillors and the chief executive has been making her way around talking to people.
"I'm encouraged by that kind of engagement.
" We wanted to know that the council hears us and that they're willing to work with us."
A Highland Council spokeswoman said: "The council has met with numerous interest groups and parents across Highland to discuss how parents might be more involved in the future.
"Following discussions with parents, a proposal was agreed to allocate resource for Parent and Pupil Advocacy to ensure inclusion of the parent voice in the ASN redesign.
"This is currently being taken forward across the region with ongoing meetings with parent councils and pupil advocacy groups to determine approaches in design and representation to best capture Highland-wide input.
"We can re-assure parents and staff that the changes this year are being managed to ensure support for our pupils.
"We have over 1,100 PSA staff who will continue to work in this area and we remain committed to supporting all affected staff, who have been advised of changes by their head teacher, in ensuring a smooth transition.
"As the ASN redesign project progresses we also look forward to implementing our new training and development programme which is being made available to all school staff."