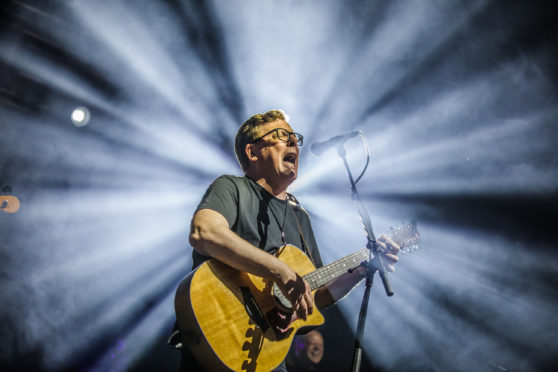 It wasn't just 500 – but more than 5,000 people – who walked to the Proclaimers' Big Top show in Inverness at the weekend.
And the organisers have revealed they are already in talks with big-name acts as they discuss the possibility of extending the festival schedule next summer.
Community leaders hailed the event at Bught Park as a "huge economic boost" – not just to the city itself, but the whole Highland region.
The massive Proclaimers concert on Saturday night attracted a sell-out crowd of 5,500.
On top of that, more than 4,000 attended the same venue the evening before to watch traditional Scottish band Skippinish.
Les Kidger, of LCC Live, was astounded at the response to their first Big Top show in the Highlands, and pledged to bring more big stars to the Highland capital in 2020.
He said: "The two nights of shows have been fantastic. The atmosphere was brilliant. The idea of the Big Top was in case of the traditional Highland summer weather, but ironically it was great.
"It just added to the atmosphere, inside and out."
He added: "It was the first time we have done the Big Top concept, and it worked. It is a great arena and provides a special atmosphere.
"It was specifically there to shelter from any rain, but there was none. But that made no difference. We are trying to give a different, unique event to the people of the Highlands. It is definitely something we will come back to Inverness with next year."
---
Local and Proud: Follow our new Facebook page dedicated to the Highlands and Islands
---
"People travelled from the islands, and from all over Scotland – and further afield.
"This is something we might turn into a three-night Big Top event next year and we are already talking to musicians about coming here."
Inverness councillor Alasdair Christie said: "I am delighted at this weekend's success.
"The more we can do to create inward investment in Inverness and the Highlands, the better for the economy.
"Events like this attract crowds and hopefully encourage people to stay overnight or even an extra night, adding to the benefit to local businesses."
Craig and Charlie Reid belted out their famous hits to an enthusiastic crowd, including I'm Gonna Be (500 Miles), Sunshine On Leith and Letter From America.