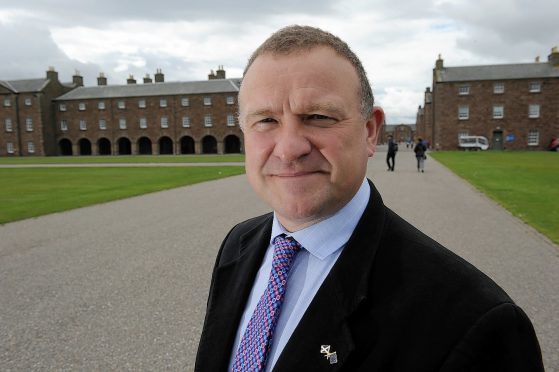 A dramatic drop in the number of military personnel based in the Highlands has sparked fears that defence chiefs have begun an "early run down" of Fort George.
Official data shows that the number of troops in the region fell by 10% from 580 to 520 in the last year alone, and have now plummeted by 150, or 22%, since 2012.
Local MP Drew Hendry raised the figures in Westminster yesterday as he quizzed ministers on whether the drop in personnel meant that the UK Government was secretly "starting the early run down of Fort George", the region's only base.
Built after the Battle of Culloden, the barracks near Ardersier faced the axe in 2016, but its closure was put off until 2032 after more than 6,000 people backed the P&J's Fight for Fort George campaign.
The stay of execution for the garrison – which is home to the famous Black Watch battalion – was announced in order to give the area time to prepare for the loss of hundreds of jobs and a £16 million blow to the economy.
But concerns have been emerging that the Ministry of Defence (MoD) could renege on the pledge to keep the base open until 2032.
And while the size of the Armed Forces has shrunk in recent years due to cutbacks and recruitment woes, the 10% fall was recorded in Highland region last year at a time when the overall number of military personnel in Scotland remained static.
Responding to Mr Hendry's question yesterday, Armed Forces minister Mark Lancaster said: "The announcement over Fort George, under the Better Defence Estates Strategy, remains as it is."
But after the exchange, the Inverness SNP MP said: "The figures, brought to my attention by the Press and Journal, show clearly the drop in numbers of service personnel in the Highlands and in turn Fort George as the only base.
"We were promised that the base would be retained until 2032 but it seems that the run down has already started, unless there is a full complement operating, then they will be breaking that commitment to both our serving personnel and local communities.
"That would be an unacceptable breach of the promises made. The MoD must now come clean about their real plans."
An MoD spokesman said: "Although the physical size of the estate is to decrease, the number of service personnel in Scotland will increase.
"The size of the estate will remain sufficient to house any increase in numbers of personnel until its closure.
"We remain committed to the disposal of the site and no decisions have currently been taken to change plans from those announced."