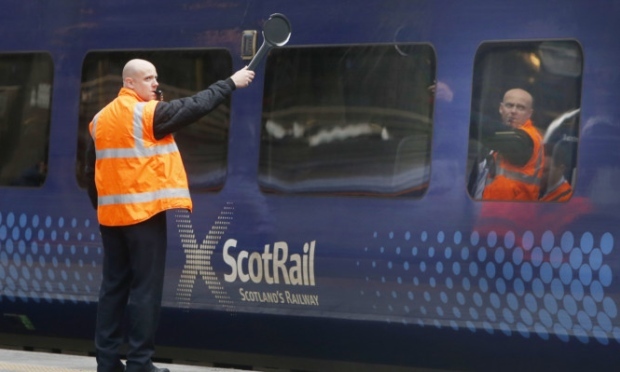 An Inverness grandmother says she is making an official complaint about ScotRail after a "nightmare" return journey to the Highland capital from Glasgow last week.
Anne Marie Fraser, of McLeod Fish & Chips on Grant Street, travelled on the 10.10am from Glasgow with her one-year-old grandson on Friday.
The journey turned into a scrum as the three-carriage train proved well below capacity, with no First Class, people crammed in the aisles and cyclists unable to board because there was no room for their bikes.
ScotRail apologised and said problems at Haymarket depot, in Edinburgh, meant they could not run as many carriages as usual.
Mrs Fraser said: "There were a number of tourists who were visiting the Highlands for the first time, looking forward to a leisurely journey, through a beautiful part of the country, some of whom had paid for first class – only to find that out of the three carriages travelling to Inverness, none of them were first class.
"The lovely young guard endorsed their ticket and explained to them how to claim back the difference as they had to stand all the way from Glasgow to Inverness."
Meanwhile at each station more people were boarding with only one passenger being refused entry as there was no room for her bike – possible due to the fact that my year-old-grandson was in his buggy, squeezed in beside a bike in one of the two spaces allocated for bikes."
Ms Fraser said there was a trolley service on the train, but it couldn't move due to the crush of passengers in the aisles.
She said: "I was terrified my grandson could have got hot drinks spilled on him by people moving up and down the train as a result. Fortunately he slept for quite a bit of the way as there was no room for him to move around.
"It's just as well the passengers in our carriage were good-natured or it could have turned unpleasant.
"All that said, the staff could not have been more pleasant or apologetic, these situations are clearly out with their control."
A Scotrail spokesman said: "Haymarket Depot, where the train was stabled overnight, was at full capacity with other trains in for maintenance.
"Unfortunately this meant that movement within the depot was restricted and this service had to run with three carriages instead of the intended six carriages.
"We're really sorry to our customers for the lack of available seats and first-class on this service, and completely understand their frustration when these things happen.
"Anyone with a first class ticket is entitled to claim money back. Just keep hold of your ticket and contact our Customer Relations team at scotrail.co.uk/customer-services."