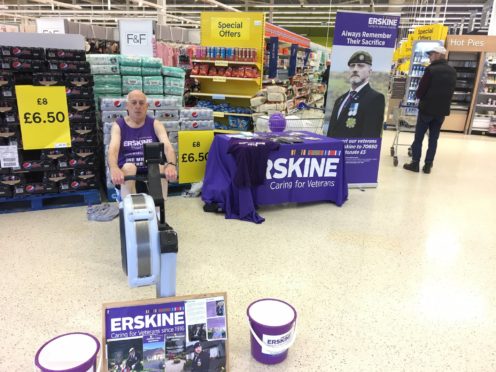 A 76-year-old Army veteran undertaking a mammoth rowing challenge in aid of a military charity will visit Inverness this week.
John Baillie, who hails from the Highland Capital, has already completed an incredible 900,000 metres, the equivalent of 621 miles, in his quest to row one million metres for the Erskine charity.
The former Staff Sergeant of the 2/51 Highlander volunteers, who served three tours of Bosnia during the 1990s, will visit the Tesco in Inshes Retail Park on Thursday with his exercise machine to resume his challenge.
Mr Baillie said: "Having served in the Army, I'm well aware of the difficult experiences so many service men and women go through.
"Erskine does a wonderful job caring for veterans and their families, so I felt taking on this challenge is the least I could do for them, whilst also keeping myself fit.
"I hope that locals and visitors to the area will see what I'm doing as unique and exciting.
"The fact I'm rowing more than 620 miles and am 77 on my next birthday will hopefully mean they'll chuck a few quid into my collection bucket."
He added: "The support I have had so far has been incredible, people have been so generous.
"I want to thank everyone who has stopped to talk to me, and to put a donation in the bucket for Erskine. It means a lot.
"I look forward to rowing again in my home town next week and speaking to the lovely people of Inverness."
On Saturday, Mr Baillie will row inside the Tesco Metro store in the city before taking to the Dores branch of the supermarket on Thursday, August 1.
An online JustGiving page has also been set up to allow donors to contribute, with Mr Baillie already surpassing his original target of £2019 by a whopping £2,957.41.