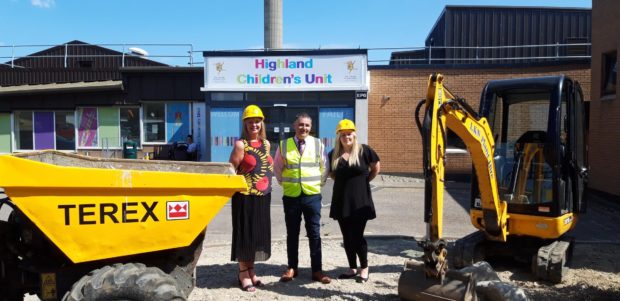 A charity is hoping to improve the experience for sick children in hospital through the creation of a new outdoor space.
Outdoor areas surrounding Raigmore Hospital's Children's Unit are being transformed into all-weather play areas for the facilities youngest patient as part of The Archie Foundation's Fresh Air Project.
The ground will feature a series of planted flowers and huge topiary animals, with the centre-piece being a 30ft Nessie which has been generously sponsored by Cruise Loch Ness.
More than £139,000 has so far been raised for the project which is estimated to take around eight weeks to complete.
Dawn Cowie, regional fundraising officer said: "It's really important to us to make the whole hospital journey for a child much easier and even being able to provide a distraction when they arrive at the hospital, then we have already made a difference."
David Wood, chief executive of The ARCHIE Foundation, said: "We are extremely grateful to our Highland Fundraising Committee, and all our supporters, who have helped make the vision of this project become real.
"The plans look fantastic and I can't wait to see them come to life and children and families enjoying the new spaces.
"We are also proud to have worked alongside NHS Highland on this project and look forward to continuing to work with them on future projects."
The charity previously set a fundraising target of £100,000 for the project, before smashing their target raising more than £139,000.
The charity is the official beneficiary of the unit at Raigmore, with the sole aim of making a difference to young patients receiving treatment.
Fundraising board member Jackie Cuddy said: "I think its lovely for the whole facility now coming together for the benefit of the children that use it to make the experience better. It's a difficult time for them and anything that can be done to make the experience easier for them and more pleasant."